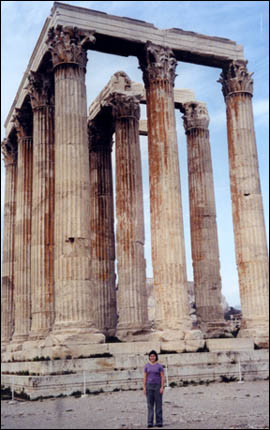 Following in the footsteps of the Apostle Paul, Amber Ingalsbe travelled through Greece and Turkey last month through a study abroad program at Luther College.

Ingalsbe, a 1999 PAHS graduate, is a religion major in her senior year at Luther. She left in early January along with a professor and 15 other students for a three-week exploration of the sites where Paul preached the word of God, as documented in the book of Acts.

While travelling in Greece, Amber Ingalsbe, a PAHS graduate and religion major at Luther College, is dwarfed by the ruins of the Temple of Hadrian in Athens. Built by a Roman emperor in tribute to Zeus, the temple is representative of the "Emperial Cult," a time where emperors believed themselves to be equals of the gods.

Roughly half of the travellers were either religion majors or minors at Luther, which added both a historical and biblical context to the sites they visited. "It's very meaningful to experience these places that were the sites of important events for the early church," said Ingalsbe.

For example, when they visited the Areopagus in Athens - a huge rock where Paul is said to have preached - they discussed why its location would have been a powerful setting for that particular story in Acts, said Ingalsbe. They also speculated as to what kind of meaning the image of Paul preaching there would have had for early Christians.

Beginning in Athens, the Luther group travelled up the eastern coast of Greece and circled back down the western coast of Turkey, leaving from Istanbul three weeks later. Their itinerary included historical sites where Paul is said to have stopped during his three journeys throughout Turkey and Greece.

Ingalsbe was struck by the way ancient ruins still exist within the centers of modern cities. "For instance, you can see the Acropolis from any point in Athens," she said. "That was true in the ancient world and is still true today." Though the city has grown immensely, she added, and the meaning of the site has changed.

Also in Athens, the students visited the Coliseum and the Parthenon. They continued to Delphi and the Temple of Apollo, then on to the monasteries of Meteora, which sit atop enormous cliffs in the center of a great valley. Before crossing into Turkey the group stopped at Phillipi, then down the Turkish coast where they toured the ruins of Ephesus, which was once a major city in the Roman Empire. Paul wrote his letter, Ephesians, to the Christians in Ephesus.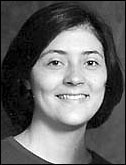 One factor for Ingalsbe in deciding to go on the trip was the opportunity to experience the historical sites of her religion studies firsthand. Another was that she wouldn't normally have felt comfortable visiting Greece and Turkey alone. Contrary to what she imagined before leaving, Ingalsbe said the group was warmly welcomed in both countries.
"I was very impressed with the places we went and the people we met," she said. Both countries value hospitality, said Ingalsbe. "It was very meaningful to feel so welcomed and accepted," she added, "especially at a time when international tensions were running fairly high."
During their time in Greece, she said it was almost disappointing how easy it was to communicate. Most people spoke English, and signs were in both Greek and English. She also discovered octopus as her new favorite food, saying that it tastes like chicken, tentacles and all.
To Ingalsbe, people seemed to be more curious and friendly in Turkey than in Greece. She and some friends were invited into a woman's home in a mountain village above Ephesus. Along with many questions, she served them lunch with watermelon wine. Before leaving they also purchased some handcrafted textiles.
Another time a restaurant owner invited the entire group into his home for a four-course traditional meal. "In Turkey, every meal lasted at least three hours," said Ingalsbe. "I wasn't expecting the Turkish to be so kind and outgoing," she added. "They were much more interested in our lives than the Greeks."
In Pergamon, a small Turkish town, they also had a chance to see how traditional rugs are woven at a community rug cooperative. She was told that the co-op existed to preserve the traditional patterns and ways of making the carpets. "Not one of us intended to buy anything that day," said Ingalsbe, "but every single person walked out with a carpet."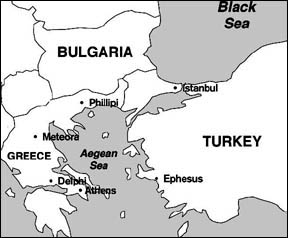 On their last day in Istanbul, while having lunch near the main square, riot tanks, and buses began passing in front of the cafe. "It was a little disconcerting to watch so many police vehicles go by," said Ingalsbe. Though she had never felt unwelcome or in danger because they were Americans, she was somewhat uneasy to learn that 5,000 people were staging an antiwar demonstration in the square next to where they had just been.
Amber Ingalsbe, a PAHS graduate and religion major at Luther College, travelled to Greece and Turkey to experience the historical places and sites that played important roles in the travels of Paul. She and 15 other students began in Athens, travelled up the eastern coast of Greece and back down along the western coast of Turkey, ending in Istanbul three weeks later.
"It was a lot of fun to be in an open, welcoming, laidback culture like that," she continued, "The Midwest is certainly a very friendly place, but in a much different way than Greece and Turkey."
Ingalsbe, 22, will graduate from Luther in May 2003 and plans to go to divinity school. She wants either to become an ordained minister in the Lutheran church or to become a religion professor. Before she goes to divinity school, she is also considering a year-long program in the United Kingdom to serve in a shelter or church.
---
Contact the author at editor@paynesvillepress.com • Return to News Menu
Home | Marketplace | Community
---