Donald Sonstegard - a longtime Paynesville businessman - died last week at the age of 85.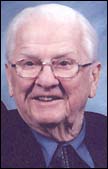 Sonstegard, a third-generation Norwegian-American, born on the family farm four miles southeast of Georgeville in Burbank Township, studied agriculture at the University of Minnesota before being drafted into the U.S. Army during World War II. After serving in the army for three years, from 1942 to 1945, he began his career in agribusiness.
He worked for Land O' Lakes Creamery in Lakefield before moving to Paynesville in 1946. At first, he managed the egg division at the North American Creamery. Two years later, he purchased the egg department from the company and started Paynesville Produce.
His company bought eggs from local farmers - and farmers as far away as North Dakota - checked them (to insure they were not fertilized) with candles, and then resold them. At one time, Paynesville Produce employed 100 workers.
Sonstegard sold the building to AMPI in the late 1960s.
He had numerous other farming interests, including turkeys with Lloyd Peterson and a number of ventures with his three brothers, including Ole Sonstegard of Paynesville, with whom he maintained a partnership the longest.
Don Sonstegard had farms in the area - from Richmond to Roseville Township to Georgeville - that raised turkeys, hogs, and Red Angus beef cattle. Most of his turkey farms are now owned by Earl B. Olson Farms, a division of Jennie-O Turkey Stores, the world's largest turkey grower based in Willmar.
Sonstegard also traded farm commodities and futures and was known for speaking on two phones at once at the office.
He never retired, according to Elsie, his wife of 62 years. "He liked to be doing something," she said. "He had that interest. He loved farming."
Sonstegard's son, Gary, still farms in the Montevideo area. Don and Elsie had five children, 21 grandchildren, and six great-grandchildren.
Sonstegard also was a partner in Farmers and Merchants State Bank in Paynesville for 20 years. He served on the Paynesville School Board for 12 years in the 1950s and 1960s, he served on the board of the Paynesville Community Service Center for many years, and he was a benefactor in the community, including building (along with Peterson) the shelter on Second Island on Lake Koronis for Camp Courage.
Sonstegard was a member of Paynesville Lutheran Church until 1975, when he and Elsie moved to Green Lake. Since then, they have been members of Nordland Lutheran Church, in rural Paynesville.
For years after moving to Green Lake, Sonstegard came to his office on Minnie Street to work each day. A complete obituary for Don Sonstegard was published last week in the Press. It can still be read online at paynesvillearea.com/.
---
Contact the author at editor@paynesvillepress.com • Return to News Menu
Home | Marketplace | Community
---