"It's a tropical heat wave!" shouts Paul Deadrick, mimicking a line from one of his favorite movies, "Grumpy Old Men." Outside on Lake Koronis, the temperature is 12 degrees, but inside the fish house it's a balmy 79 degrees.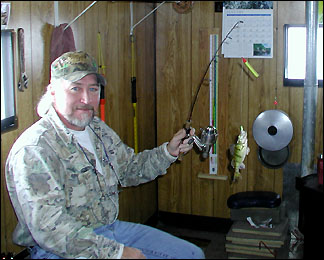 Just like his ice fishing heroes in the movie, Deadrick would rather spend his time on the lake - with a fishing line threaded through a hole in the ice - than just about anything.
Deadrick - who lives near Lake Koronis - has been ice fishing everyday except one since the season opened in December. The only day he has missed this year was in late January when it was so cold that his truck wouldn't start.
Paul Deadrick displays his catch of the day, a small perch caught during a day of fishing on Lake Koronis In January. Deadrick has gone ice fishing every day this winter except one, when his truck would not start.
Because his carpet-cleaning business is slow in the winter, Deadrick has more time to wait for the "big one" in the winter than he has in the summer, when he also likes to fish. He is an avid outdoorsman all year round, liking to hunt, too.
Deadrick is anxious to get out on the ice each year, but contrary to some reports, he has never fished with a rope tied around his waist lashing him to shore, he said. But he is always cautious, so when he ventures onto the ice for the first time each season, he usually wears a safety line when testing the ice.
He always carries safety equipment anytime there is any doubt about the ice, he said. He does this because over the years he has seen people, fish houses, trucks, and four-wheelers go through the ice. In fact, several years ago he went through the ice on a snowmobile, so he knows firsthand how dangerous the ice can be.
To Deadrick, ice fishing is about more than just catching fish. He finds the time he spends in his fish house relaxing, and he also enjoys the camaraderie shared by ice fishermen. Sometimes in the evenings, his fish house is packed with other fishermen from the cluster of houses on Lake Koronis that - just like in the movie - resembles a little shantytown.
Sometimes he's accompanied fishing by his sons, Jake and Cody, and sometimes by his long-time partner Ruthie Hopfer. "It's fun. We have fish house parties, and it's a lot of fun for the kids," said Hopfer, who sometimes prefers reading a book while Deadrick fishes.
Deadrick began ice fishing when he was still a kid. Then, he and his buddies would fish out in the open on any frozen body of water.
Now, Deadrick's surroundings have been refined. He no longer fishes out in the open when fish houses are allowed on the lake. Instead, he is surrounded by a fish house that contains many of the comforts of home.
Deadrick's fish house has wood-paneled walls, a propane heater, a propane cookstove, a television and VCR, seating for all of his friends and neighbors, and a table that lowers to make a bed.
Benches that double as coolers hide wheels that are controlled by a hydraulic system. Every week or so, Deadrick engages the hydraulics to lift the house off the ice so it doesn't freeze to the ice, which would make it difficult to move off the lake in March when the season ends.
The fish house has five openings in the floor where holes have been drilled through the two-feet-thick ice - one in each corner and another one near the corner with the cookstove.
On the wall near the stove is a calendar with notations about every big fish caught in the house. So far, this year's big catch in the house was a 28-pound walleye. Deadrick estimated that he has about $6,000 invested in the house alone, and he doesn't even have a satellite dish like some of his neighbors.
One Saturday in January, Deadrick and his companions - Dave Vig from Paynesville and Mark Borman, an old friend who now lives in Alaska - fished all day for walleyes. They hoped to add a notation on the calendar, but a big fish seemed to be just beyond their reach.
Using large sucker minnows and lines attached to "rattle wheels" (spools of fish line that ring when a fish pulls on the line) mounted on the walls, the men chatted and watched golf on television while they waited for the reels to clatter when a fish took the bait.
They didn't wait long.
Something - possibly a big northern - hit first on one line then moved on to each of the others before returning to the first line. Unfortunately, each time the fish hit, it took the bait and the hook before each line broke.
"The big ones always get away," laughed Deadrick. Not discouraged, the men laughed about the fish for a while before they realized that they were nearly out of bait and hooks.
"It must be Jaws," grinned Vig.
The men all laughed that they were up against a fish that was smarter than they were.
The big fish surprised Deadrick a bit. Usually, the best time to ice fish is early in the morning and in the evening. On this day, the big fish began hitting around 1:30 p.m. One of the things that Deadrick likes about ice fishing is that it's unpredictable. He never knows when the big one might hit.
The biggest fish caught by the group during this outing was a seven-inch crappie that Borman caught early in the day. Undaunted, Deadrick smiled as he reeled in a line that was missing its bait and hook. "If they'd pay me for this, I'd be in seventh heaven," he grinned.
With "the big one" still out there, Deadrick will be back.
---
Contact the author at editor@paynesvillepress.com • Return to News Menu
Home | Marketplace | Community
---