Since February is I Love To Read Month, the Press decided to look this month at what sixth grade students, and what one of their parents, are reading.
Names: Ashley and Lonnie Gleitz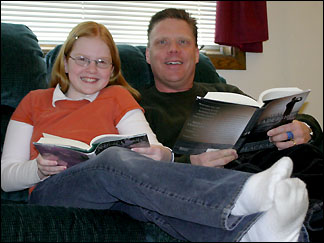 Why do you like to read?
Ashley: I like to read because it takes me into a world of adventure
Lonnie: It challenges me, encourages me, and helps me become a better person.
What type of books do you choose most often?
Ashley: Autobiographies, adventure, the Princess Diary series, and the Unfortunate Event series.
Lonnie: Autobiographies and leadership development. I enjoy reading books that encourage and inspire me to find life's greatest purpose and meaning: Loving God, my family, and my fellow man.
What books do you remember someone reading aloud to you?
Ashley: CThe Book of Virtues, I Love You Forever, and Just In Case You Ever Wonder.
What is the first book you read completely on your own?
Ashley: Flat Stanley
Lonnie: The Mouse and the Motorcycle
What is your favorite book?
Ashley: Snail Mail No More and The Doll People
Lonnie: I enjoy both fiction and nonfiction. I try to intermingle both into my reading schedule. I really enjoy suspense novels such as ones written by John Grisham. I have read most he has written.
Who is your favorite author?
Ashley: Lemony Snicket, Ann M. Martin, and Max Lucado
Lonnie: Max Lucado and James Dobson
Please give a summary of the last book you have read.
Ashley: I'm in the process of reading The Diary of Anne Frank. Anne Frank's diary is an autobiography written by Anne Frank. It's Anne's diary while she was in hiding during World War II.
Lonnie: Bringing Up Boys by James Dobson. This is a book written to parents of boys. It gives practical advice and encouragement to those shaping the next generation of men.
What book would you really like to read?
Ashley: The Slippery Slope, written by Lemony Snicket.
Lonnie: I have no one in particular, but I always have several new ones I have picked up ready for future reading.
Where do you find books?
Ashley: The library.
Lonnie: I often stop at bookstores and just browse. I also am a member of a book club. I receive monthly selections to consider.
Where is your favorite place to read? Why?
Ashley: My favorite place to read is in my room on my TV chair.
Lonnie: At home, after dark, in my recliner with a cup of tea or coffee.
What is your favorite snack while reading?
Ashley: Chocolate chip cookies, made by my dad.
Why is reading important?
Ashley: Reading can teach you important things and take you into an adventure.
Lonnie: I believe it broadens our whole perspective on life. I once had a college professor say it this way: "If you have no well to draw from, those you influence have no well to draw from."
What are your other interests and hobbies?
Ashley: After-school activities, church activities, hanging out with friends, and being with my family.
Lonnie: Cars, gardening, and travel.
---
Contact the author at editor@paynesvillepress.com • Return to News Menu
Home | Marketplace | Community
---