Paynesville Jaycees win numerous awards
This article submitted by Michael Jacobson on 2/10/99.
Representatives for the Paynesville Area Jaycees came home from their state convention with a number of awards.

The chapter received a Blue Chip Plaque for organization and planning; Presidentís Club Recognition for continuous growth; a Gold Award for starting a new Jaycee chapter in Kimball; a Silver Award in public relations for their 30th Anniversary party last October; and a Bronze Award for their Taco Night.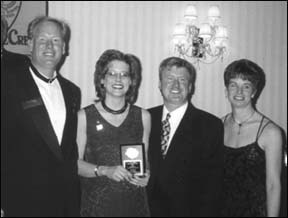 During the parade of chapters, Paynesville was chosen to walk third out of the 20 chapters recognized in the Performerís Club. Chapters were selected for overall performance in chapter growth, projects, convention and training attendance, fund raising, and donations. There are about 180 Jaycee chapters in the state.
Paula Tebben was chosen to walk first in the parade of district directors. She was also chosen as District Director of the Year and received a Presidential Medallion from the state president. Her son, Joshua, received a Helping Hand Award, honoring him for helping his mother with projects and events, for giving advice and support, and for assisting in many ways.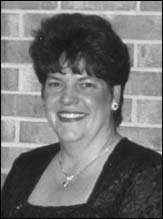 The convention was held Friday through Sunday, Feb. 5-7, in Bloomington. Tebben and Ann Winge Johnson represented the Paynesville chapter and received numerous individual awards. Both received Gold Keys for individual recognition as district director for Tebben and as chapter president for Johnson. They also received three lion pins apiece for recruiting more than 11 new members in the past quarter.
Another local Jaycee, Dave Dziengel, received a Silver Award for New Jaycee of the Quarter. Dziengel joined last fall and almost immediately chaired the Supershot competition.
At the regional awards in Roscoe on Jan. 29, Laurie Nepsund received a Gold Award for her efforts on the Welcome Neighbor program. Liz Greguson received an award for best chapter management of the quarter, and Sheryl Fuchs was named regional treasurer of the quarter.
Mel and Pat Jones also received a Helping Hand Award for their support of their daughter, Paula Tebben.
---