Flanders, Jones represent school for AAA
Flanders chosen top in sub section


This article submitted by Michael Jacobson on 2/10/99.
Well-rounded high school seniors were once again recognized this year in the Academics, Arts, and Athletics Award. Josh Jones and Camille Flanders were Paynesvilleís representatives in the sub-section competition on Wednesday, Jan. 27, in Cokato.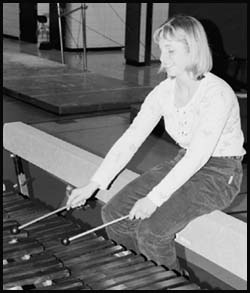 Flanders won the female competition and advances to the section competition tonight in St. Cloud. Steve Brisendine, activities director, said Camille was head and shoulders above the rest.
The male competition was won by Brandon Malmberg of Annandale. Brisendine said Jones was a strong candidate and was in the final consideration.
Each candidate fills out an application listing their achievements in academics, arts, and athletics. They also must write an essay describing what they have learned from these activities and how it will help them in their lives. They also needed a reference from a faculty member. On the night of the competition, they spoke briefly before the group.
Camille Flanders
Camille is the daughter of Mike and Jo Flanders. She ranks first in her class academically. She belongs to the National Honor Society and was a National Merit semi-finalist. She belongs to the German club, and she has participated in the math contest at St. Cloud State University and has done peer tutoring.
Athletically, she has participated in cross country, gymnastics, and track. She has lettered six times in cross country and five times in gymnastics, and has served as captain for both sports. She was All Conference in cross country as a ninth grader and helped the girls team to the conference championship. She has won six team awards for most positive attitude, for most effort, and for most improved.
Last year, she joined track to compete in the pole vault, a new event for girls. She set a school record in the event.
In the arts, she has been a member of the concert, marching, and pep bands for four years and of the jazz band for three. She has been a section leader and a featured soloist. In competition, she was part of a percussion ensemble that received a section excellent rating and a state superior rating. She also received a state excellent rating for a zylophone solo.
She also was in the school choir for one year.
Outside school, she has taken piano for nine years and has taught piano lessons.
She has been a volunteer in the Target Leadership and the Pals Program at school. She served as assistant editor of the yearbook last year, and is active in the community in jazz concerts and at her church.
ďOne of the great things about Camille is if you need something done all you have to do is ask her and sheíll get it done,Ē said Bryan Mara, high school band director, who wrote Camilleís reference letter for the contest. ďSheís very independent.Ē
Josh Jones
Josh is the son of Neal and Inez Jones. He ranks 13th out of 105 academically in his class. He is a member of the National Honor Society and has done peer tutoring.
Athletically, he has participated in football, basketball, and track, serving as captain in both basketball and track. Last fall, he was All Conference Honorable Mention in football.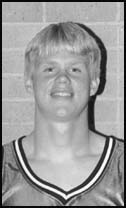 He was All Conference in track as a sophomore in the long jump and as a junior in both the long jump and the triple jump. As a junior, he ran on both the 4x400m relay and the 4x800m relay, which both were third at sections. As a sophomore, his relay team finished sixth.
He has set five school records in track. and has won five team awards in his high school career, including the B-squad basketball MVP award as a sophomore.
He has participated in concert, marching and pep band for four years. He has performed as a soloist and in duets and ensembles for competitions and has earned section superior and excellent ratings. He has sat in the first chair for the tuba section for three years, and currently serves as the band secretary.
Additionally he has been a volunteer for Target Leadership, served as an attorney in a mock trial, and been the sports editor of the school newspaper.
Outside of school, he has attended state and national youth conventions, served as a Sunday school teacher, helped Adopt-a-Highway, and helped with youth basketball.
ďIn my seven years of high school teaching, Josh is one of the top students and players that I have had the pleasure of knowing,Ē wrote social studies teacher Todd Knudsvig in his recommendation letter. ďI wholeheartedly recommend Josh for this award.Ē
---