Chess tournament drew 58 players
This article submitted by Michael Jacobson on 2/10/99.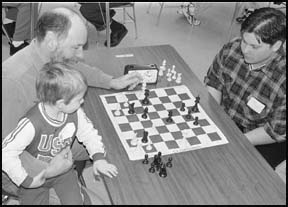 The third annual chess tournament attracted 58 players of all ages to Paynesville Saturday.

The competition was held in the media center of the Paynesville Area Middle School, and a classroom and the computer lab in the high school.

Competitors came from all over central Minnesota: Belgrade, Willmar, Benson, Long Prairie, Royalton, Hinckley, St. Cloud, and Cold Spring. ďI wish we could have had more people,Ē said Jay Thompson, tournament director, who noted that attendance was down slightly from a year ago.

ďWeíll get bigger,Ē he added. ďMy wife heard nothing but positive comments.Ē

Thompson threatened to force all parents to play in the adult diivision next year.

The tournament featured several teams with coaches, and a boy from Long Prairie who finished third at nationals last year.

Local judges were Bob See and Tom Koshiol. The tournament was sponsored by Community Education.

Trophies were given to the top four in each age class, and medals to the top seven.

Results
Ages 0-9: 1. Chris Sokoloski 2. Michael Eikmeier 6. Ezra Thompson (Paynesville) 7. Riley Sampson (Paynesville)

Ages 10-13: 1. Reed Sorenson 2. Jacob Teichroew 3. Peder Thompson (Paynesville)

Ages 14-17: 1. Nathan Gilbert 2. Kevin Beal 3. Andy Burkhardt

Ages 18 and up: 1. Jim Rosenberger 2. Russ Swanson 3. Tom Thompson 4. Bob Kerzman (Paynesville) 6. Doug Millner (Paynesville) 7. Ben Hegge (Paynesville)

Speed chess: 1. Swanson 2. Ed Mrosla 3. Sorenson 4. Gilbert

Upcoming tournaments
Feb. 27 in Long Prairie for grades one through nine. Charge $5. Call 320-732-6117.

March 6 in Belgrade for all ages. Charge is $7 per person or $15 per family. Call 320-254-8851.

March 7 in Willmar. Call 320-235-7892.

April 10 in Litchfield for kids only.

St. Cloud will be hosting their 30th annual tournament, but to play you must be a member of a chess federation whose membership costs $40.
---