The Minnesota Senate, along with the Minnesota House, began the 2005 legislative session in early January, and local senators express their thoughts on the session this week. Two priority issues are a bonding bill for capital improvements, as well as a state budget for the next two years, both of which should be passed this session.

Local state senators are: Sen. Dean Johnson (DFL-Willmar), whose District 13 includes northern Kandiyohi County and western Stearns County; Sen. Michelle Fischbach (R-Paynesville), whose District 14 includes the city of Paynesville and Paynesville Township; and Sen. Steve Dille (R-Dassel), whose District 18 includes all of Meeker County.

All three senators mentioned the need for cooperation, as the DFL Senate works with the Republican House and Republican governor.

Already, the Senate has passed a bonding bill, totalling $976 million, while Governor Tim Pawlenty has proposed a $744 million bonding bill. The Senate bill includes $900,000 to improve the Glacial Lakes State Trail from Paynesville to New London and $365,000 to connect the Glacial Lakes State Trail to Paynesville and the Lake Koronis Recreational Trail.

(Local House members previewed the current legislative session last week in the Press.)

Sen. Dean Johnson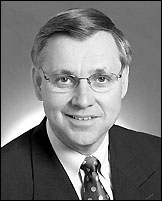 While he is pleased with the Senate's start, Sen. Dean Johnson (DFL-Willmar) acknowledges that there is a lot of work to be done this session. Funding needs, especially for education, must be weighed against the $700 million budget deficit.
It was beneficial to pass a bonding bill early in the session, according to Johnson, the Senate Majority Leader. Bonds are funds borrowed by the state, and interest rates are increasing, along with the price of steel used for the projects.
A bonding proposal has been released by Governor Tim Pawlenty, and the House is expected to pass a bonding bill by the end of the month, said Johnson, after which legislators from both the House and Senate will negotiate a compromise bonding bill in a joint committee.
Johnson believes that the state constitutional mandate to provide adequate school funding is not being fulfilled, saying that too much funding is now done through district levies. Public schools are the source of long-term strength for the state and need to be protected, he stated.
The Senate is currently hearing debate on a bill requiring gasoline sold in Minnesota to have 20 percent ethanol content by 2012, which Johnson noted would be great both for the environment and for rural economic development.
Increasing the number of livestock herds while staying sensitive to the environment is also important to Johnson, who also mentioned the necessity of balancing between large agricultural operations and small family farms. Other issues Johnson hopes to address this session include controlling the number of methamphetamine labs in the state and lengthening sentences for sex offenders.
Sen. Michelle Fischbach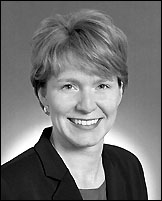 The bonding bill that was passed in the Senate was a good start to the session, said Sen. Michelle Fischbach (R-Paynesville), because it had bipartisan support, passing with 57 senators supporting and only seven opposed.
Funding for all areas will have to be carefully considered, due to the budget deficit, remarked Fischbach, and the exponential growth in health and human services costs will have to be contained, she added. Deciding where to cut among so many important services is very tough, said Fischbach, and she is especially concerned with protecting funding for nursing homes. Eligibility and services for health care programs like Medicaid and MinnesotaCare, a reduced-cost program to provide health coverage for eligible families, should be reviewed, according to Fischbach.
Fischbach, who is a member of the K-12 Eudcation Budget Division Committee, supports an increase in general education funding, and she is the chief author on a bill that would allow an increase in the maximum levy amount by school districts, if passed.
Fischbach is also chief author of a bill to expand the school health and safety program to cover the cost of providing support to students through school psychologists, counselors, nurses, and social workers.
Another education issue that will be considered this session is the governor's proposal to base pay for teachers upon performance factors, and a similar proposal is currently being debated in the education committee, said Fischbach.
Sen. Steve Dille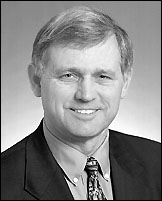 Now that the Senate has passed a bonding bill, which should have been done last year, according to Sen. Steve Dille (R-Dassel), he is focusing on balancing the state budget.
There is a lot of pressure at the capitol to raise the gas tax, but Dille believes that avoiding such tax raises is very important. He noted that health care costs must be curbed, while still providing for citizens in accordance with the state constitution.
Dille, a farmer and veterinarian, is the co-author of a bill for beginning farmers to receive an additional dairy subsidy. Provisions of the bill include up to $10,000 per year over the first five years of production, by committing an extra dollar for each 100 pounds of production up to 1,000,000 pounds.
Promotion of livestock in Minnesota is important to Dille, he said, while pointing out that the governor has also mentioned that as a goal. He serves on two committees that deal with agriculture and supports small farming operations.
Transportation funding for the Northstar Commuter Rail, which would be extended to Big Lake under a current proposal, could have significant effects on citizens in his district, observed Dille, who represents all of Meeker County as well as parts of McLeod and Wright counties.
According to the current proposal, a connection would be made with the light rail, which would be convenient for some residents of his district, he said, eliminating a need to fight traffic and to pay for expensive parking in the Twin Cities, including at the airport.
(Editor's Note: Andrie is a 2004 graduate of Paynesville Area High School and a freshman at the University of St. Thomas in St. Paul. She is covering the 2005 legislative session for the Paynesville Press.)
---
Contact the author at editor@paynesvillepress.com • Return to News Menu
Home | Marketplace | Community
---