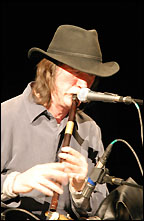 An Irish concert at the PAHS auditorium attracted a crowd of 300 people on Saturday night to hear the piping of Paddy Keenan, to see the dancing of Scoil na d'Tri, and to hear Barra, a five-piece Irish band from Minnesota, featuring a PAHS alumni on guitar.

Paddy Keenan, a world class Irish musician, played flutes and the Irish Uilleann pipes during a concert at the auditorium on Saturday night.

Paddy Keenan, a world-class Irish Uilleann piper known as the "King of the Pipes," highlighted the concert, accompanied by another Irish musician, Patsy O'Brien on guitar. They played jigs and other Irish tunes, including a jazzy version of "County Down," while Keenan switched from flute to the pipes, which are similar to the more familiar Scottish bagpipes.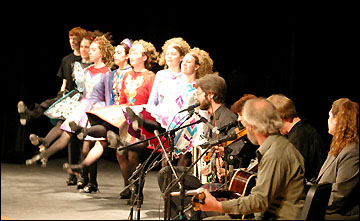 Keenan is well known in traditional Irish music, having played with the famous Bothy Band in the 1970s. He started on the pipes when he was 14. He and O'Brien were touring the United States for a few weeks as part of a world tour.
The five-piece Irish band, Barra, accompanied the dancing troupe Scoil na d'Tri on Saturday night.
The first half of the concert featured Irish music and dance by Minnesota artists, from the five-member band Barra and by the dozen-member dancing troupe Scoil na d'Tri. Playing guitar with Barra was John Garding, a 1971 PAHS grad who now lives in St. Paul.
Garding joked that it was good to play in familiar territory because he used to wander the halls at PAHS until he was caught by teacher Dick Butler and made to go to class.
Butler, on the other hand, was surprised to find Garding playing in an Irish, not a German, band.
The concert was organized by Paynesville Community Education.
---
Contact the author at editor@paynesvillepress.com • Return to News Menu
Home | Marketplace | Community
---