Neil Symanietz, a 2004 PAHS grad, received his Eagle Scout award at a Court of Honor on Sunday at St. Agnes Catholic Church in Roscoe.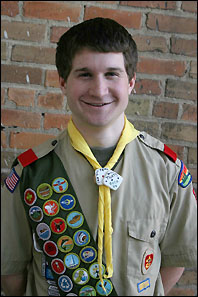 Symanietz, the youngest of seven children of Kenneth and Mary Margaret Symanietz, belonged to Troop #18 in St. Cloud, where he lived until he turned 11, with his family moving to Roscoe before he started sixth grade.
"When we moved out here," said Symanietz, "I just stayed with that troop." He was a member of that troop for ten years.
"All my buddies were there," he added, noting that staying in that scout troop allowed him to keep seeing his friends from St. Cloud.
Symanietz wanted to earn his Eagle Scout award "pretty much as soon as I joined Boy Scouts," he explained. "I looked up to the older boys who had gotten their Eagle Scout awards, or were shooting for it, and that pretty much made me want to do it, too."
A friend, who also became an Eagle Scout, connected Symanietz with the Stearns County Park Service for his Eagle Scout project. Symanietz organized the building of 20 bluebird houses for county parks, including four that he and his friends erected in the Quarry Park. (The other 16 were erected by the park service at various county parks.)
He coordinated the project with the park service, got plans for bluebird houses, secured funding through the Knights of Columbus, got supplies at a lumber yard, and organized the other scouts in his troop, as well as family and friends, to actually build the houses in his garage in Roscoe one Saturday afternoon.
For his Eagle Scout rank, Symanietz earned 21 merit badges, including 12 required badges and nine electives.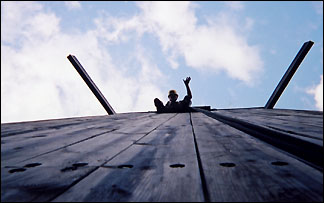 Many of his Eagle Scout badges, and many of his Boy Scout badges in general, were earned at Many Point Scout Camp, located near Ponsford in northern Minnesota. Symanietz attended camp there for four years as a Boy Scout and has been a counselor at the camp for the past three summers.
Symmanietz - relaxing after scaling this wall - earned aobut 80 percent of his merit badges at Many Point Scout Camp.l<
He estimated that he earned 80 percent of his merit badges for Boy Scouts at the camp. The most fun were sailing and horsemanship. He plans to return to the camp in 2005 and serve as the sailing director.
The camp, said Symanietz, who lives in a tent for three months in the summer, is "one of the best in the nation," with lots of out-of-state and out-of-country groups.
Symanietz also attended Florida Sea Base in 2000 and Philmont Scout Camp in New Mexico in 2001.
Symanietz actually completed all the requirements for his Eagle Scout nearly a year ago, before his 18th birthday in May 2004. But his Eagle Scout Court of Honor was delayed until this past weekend.
Now a first-year student at St. Cloud Technical College studying heating and air conditioning, he hopes to stay involved in scouting as an adult leader. (In addition to working at Many Point Scout Camp next summer.)
Symanietz is the only one of his siblings to stick with scouting. He said that he loves to camp, but his family doesn't. He loves tying knots, making fires, you name it. "I love everything about (scouting)," he said. "There's no downside to it that I've found yet."
---
Contact the author at editor@paynesvillepress.com • Return to News Menu
Home | Marketplace | Community
---