Last week, the PAHS Band had the opportunity to practice and discuss a piece of music with its composer.
Carl Schroeder (at left), a senior composition major at St. Olaf College, visited PAHS on Thursday to listen as the PAHS Band practiced his work "The Minnesota Portraits."
Schroeder, from Minneapolis, wanted feedback from the students as well as answering technical questions about the piece and providing insight into the music.
Schroeder explained some passages that sounded odd to the PAHS students, said band director Ken Vork, like a tough rhythm in the third movement, "The Mississippi River." That rhythm did not sound like flowing water to the students, said Vork, but Schroeder explained that it came from the beat of the children's song used to learn the spelling of "Mississippi" that goes M-I-S-S-I-S-S-I-P-P-I.
"There were a couple spots that were hard to understand, and he explained them to us," said Vork.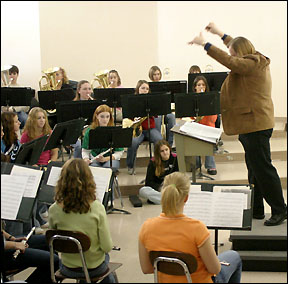 Schroeder also told the students that he wanted an honest opinion of his music. "Believe me," he said, "I don't want to write music that people don't like."
Band director Ken Vork leads the PAHS Band during a rehearsal of The Minnesota Portraits on Thursday while composer Carl Schroeder listened and explained his work.
Vork heard "The Minnesota Portraits" at St. Olaf in Northfield, Minn., last spring, met Schroeder, and agreed to purchase the music, with Schroeder promising to come and visit PAHS and hear the band rehearse.
Schroeder wrote the three-part composition for concert band in 2003 as a commissioned piece for the Calhoun Isles Community Band. The three movements of the piece are: "Historic Fort Snelling," "Lake Calhoun Sunrise," and "The Mississippi River."
The PAHS Band has worked mostly on the first movement so far, according to Vork, and is starting to work on the third movement. The band should perform the piece at their spring concert on Monday, April 4.
---
Contact the author at editor@paynesvillepress.com • Return to News Menu
Home | Marketplace | Community
---