Emergency landing scares local man
This article submitted by Michael Jacobson on 2/9/00.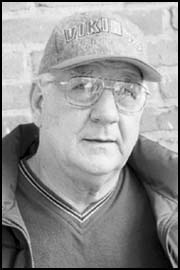 Bob Arend was never so happy to land in a plane. Never mind that it was at the same airport they had left an hour earlier.

Returning from Arizona last Wednesday, Feb. 2, the Lake Koronis resident was flying from Phoenix to Dallas-Fort Worth, enroute to Minneapolis-St. Paul. The MD-80 aircraft that carried him-the same model as the Alaskan Airlines plane that crashed off the coast of California on Monday, Jan. 31, with 85 people aboard-experienced a horizontal stabi-lizer problem, the sort of malfunction that is suspected in the crash.

"We were porpoising like this," said Arend, while waving his arm in a sort of S-curve, "so I knew something was wrong. Then the pilot came on and said we were returning to Phoenix."

The plane had been airborne for 25 minutes when the problem occurred. People were moving around the cabin, and the flight crew was starting to serve refreshments, which they quickly collected.

"After the pilot told us," Arend explained, it was 20 minutes (back to Phoenix, but it was 20 minutes that lasted five hours."

Everyone was scared to death, according to Arend, except for the flight crew, who maintained their composure so well that Arend couldn't tell. "I wouldn't have gotten scared if I had had some control," he said. "But you have no control. You have to trust the pilot."

Arend said it felt like the pilot was using the throttle to control the plane. The problem actually turned out to be a switch for the stabilizer that was only working intermittently.

While the plane raced back to Phoenix, Arend questioned their fate: would they make it? "You look out the window," he said, and go, 'Wow! If we crash is it going to hurt?'"

The plane had priority for landing and did so in fairly routine fashion, though Arend said they were going rather fast and took a long time to stop. The unusual part was the emergency service vehicles standing by and the local media that had already descended upon the airport.

After the plane landed, the pilot announced that the problem was with the horizontal stabilizer. The government confiscated the plane's black box and tail section for examination.

Arend was glad to have to wait in the airport and to regain his composure before his rescheduled flight home. He requested to fly nonstop to Minneapolis on Northwest Airlines on a DC-10.

Since this incident, a third plane has had a horizontal stabilizer problem. On Saturday, an MD-83, a series similar to the MD-80, returned to Reno, Nev., as a precautionary measure after a bad switch caused them problems as well.

Arend, who moved to Lake Koronis in September with his wife, Sue (Bast), doubts he'll fly again. He certainly won't on a MD-80, he said.

He's going to frame his ticket, baggage claim, and press clippings and hang them in his shop. "So every time I get mad, I'm going to look at it and be thankful to be there," he explained.

"We have a new motorhome," he added, "so we're going to Florida, and we're driving."
---