For February - I Love To Read Month - the Press asked sixth grade students - and their mother or father - to share what they like to read and their reading habits.

Names:
Connor and Kyle Hacklander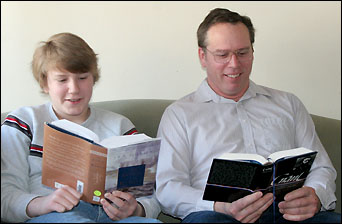 Why do you like to read?
Connor: It can take you places you will and have not been. It will take you everywhere.
Kyle: Reading informs me, entertains me, and stretches me.
What type of books are best?
Connor: Christian-related books, because I am a Christian. It is good soul food.
Kyle: I like L'Amour's Western novels, Barclay's devotionals, and history books. The former shows me how to be a man's man, the next how to be God's man, and history gives me perspective
What books do you remember someone reading aloud to you?
Connor: I Am a Bunny, Goodnight Moon, and Peter Rabbit.
Kyle: My folks read me Dr. Seuss books.
What is the first book you read completely on your own?
Connor: Goodnight Moon.
Kyle: I remember reading Ann Can Fly.
What is your favorite book?
Connor: Lord of the Rings, Chronicles of Narnia, the Left Behind series, Prophet, and A Wrinkle in Time.
Kyle: One of my favorite books would be Robinson Crusoe by Daniel Defoe.
Who are your favorite authors?
Connor: J.R.R. Tolkien, C.S. Lewis, Tim LaHage, and Frank E. Pretti.
Kyle: My favorite authors would be Homer, Sir Arthur Conan Doyle, James M. McPherson, and Alan Brugler.
Please give a summary of the last book you have read.
Connor: I read The Hobbit, although it was not the last book I read. Twelve dwarves show up at Bilbo's house, and they stay to eat, but Bilbo and the dwarves end up on a quest to get their mountain back from the dragon.
Kyle: The last book I read was Monster, a novel by Frank Peretti. The storyline is about a woman who is abducted during a survival campout by an unseen screaming horror out of the night. There's an ensuing search for her. The story encompasses all sorts of monsters that one might come upon in life.
Besides books, what else do yuou like to read?
Connor: Newspapers, magazines, and anything else readable.
Kyle: I like to read technical and fundamental analyses of the grain markets, magazines, and newspapers.
Where is your favorite place to read?
Connor: The reading chair in my room. I like it because there is a lamp in reach and it is comfortable.
Kyle: My favorite place to read is the hammock out on the lawn because it's relaxing and seclusive.
What is your favorite snack while reading?
Connor: Cookies and milk.
Kyle: My favorite snack is M&Ms and a tall glass of iced green suntea.
Why is reading important?
Connor: It keeps you up to date on world events, present and past.
Kyle: Reading develops your imagination. It informs of the world around oneself. Reading exposes one to the different ways other people and other cultures behave and think.
What are your other interests and hobbies?
Connor: I like to play chess and other board games. I like camping and swimming. I like eating chocolate, too.
Kyle: I like playing cards and board games, gardening, canoeing, biking, and dating my wife.
---
Contact the author at editor@paynesvillepress.com • Return to News Menu
Home | Marketplace | Community
---