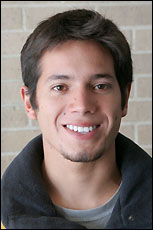 Jorge Diego Rivera from Trujillo, Peru, has joined the student body at Paynesville Area High School for 45 days. Jorge (pronounced hor-hey) came to Minnesota on Wednesday, Jan. 18, and returns to Peru on Monday, March 6.

Jorge (hor-hey) Diego Rivera from Trujillo, Peru, is spending seven weeks at Paynesville Area High School as an exchange student through the Lions Club International.

Jorge came to the United States through Lions Club International. He is staying in Paynesville with senior Lindsey Pelton and her parents Colleen and Ian Pelton.

Jorge's prime motivation for coming on an exchange program is to improve his English, which he has taken for five years in school.

"Me and my friends want to learn more English," he said. "I thought it was a good idea to come to Minne-sota."

"In Peru, I don't practice English. That's the problem," he added.

Learning conversational English, though, is not easy, he said, because people talk very fast. As part of his day at PAHS, Jorge is spending two hours in Spanish classes, with the PAHS students learning Spanish and Jorge learning English.

Jorge lives in the village of Huanchaco, 20 minutes from the city of Trujillo, which is located on the coast in the northern part of Peru some 300 miles north of the capital of Lima. He just completed his first year of university study in systems engineering at a private university in Trujillo.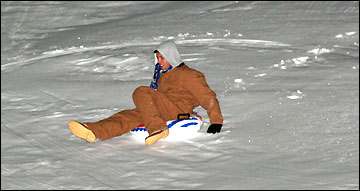 One surprise for Jorge upon arriving in Minnesota is the number of cars. "Everybody (in Minnesota) has a car," he said. "In Peru, not everyone does." In Peru, Jorge takes a bus to the university each school day.
Shown here Jorge enjoys a winter night of sleding.
Jorge grew up in a mountain village, Cajamarca, where his father is a consultant in the mining industry and his mother is homemaker. He now lives with his older sister near Trujillo in order to attend school.
His mountain village is "very cold," he said, "but not like here."
Making his first trip to the United States, Jorge finds it very different. "It's very cold," he said. "We are now in summer in Peru, and in winter it doesn't get this cold. We don't have snow where I live." To find snow in Peru, you would have to go high in the Andes Mountains.
Despite having to adjust to the winter weather, Jorge has gone sledding with Lindsey and her friends and wants to go snowboarding.
Sledding "was very funny but very cold, too," he said.
---
Contact the author at editor@paynesvillepress.com • Return to News Menu
Home | Marketplace | Community
---