The Nature Conservancy opened an office in Paynesville in September 2005, with project manager John Maile assigned to supervise the Glacial Lakes project area, which stretches from Paynesville to Starbuck.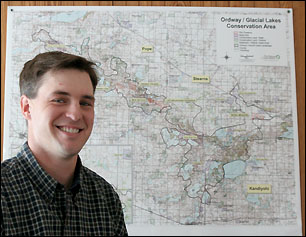 Maile, who has worked for The Nature Conservancy for five years, supervises six properties with 2,724 acres, including Regal Meadows (667 acres) and the Roscoe Prairie (57 acres).
John Maile is the project manager for the Ordway/Glacial Lakes project, which stretches from Paynesville to Starbuck, for The Nature Conservancy, which has a new office in Paynesville.
The glacial lakes exist on a ridge, paralleling Highway 55 about five miles to the south, from Long Lake to Starbuck. It includes parts of Stearns, Pope, Kandiyohi, and Swift counties.
The glacial til and outwash (from where the glaciers stopped) left gravel and rocks in these hills. Chunks of ice later melted to form these lakes, explained Maile.
This hilly area was not prime ag land; it was used more for grazing than row crops, which caused less disturbance to native plants, said Maile. It is virtually impossible to restore a farm field to the diversity of a native prairie, added Maile.
The Nature Conservancy's original property in this area was the Ordway, located five miles southwest of Brooten, in the late 1960s. Its newest preserve is 801 acres five miles south of Brooten.
Maile's job includes prairie management and restoration, including burns every two to three years (mimicking the natural cycle), collecting seeds, and using cattle to mimic bison by eating woody plants. The Nature Conservancy uses the earliest aerial photos from 1938 and surveryor notes from the 1890s in making management decisions.
Less than one percent of the land in the country is in its original state, which in this area, on the prairie/forest border, is prairie. With such a small amount, it's important to maintain it, said Maile. "So many plants and animals rely on that remaining one percent that the original biodiversity is almost unfathomable," he explained.
For instance, the Roscoe Prairie serves as a migration spot for the upland sand piper, or yellow lady slippers - a type of orchids, which bloom in early June - can be found in these preserves.
The Nature Conservancy's preserves are open to the public for hiking, bird watching, photography, snowshoeing, and skiing, said Maile. The purpose is public enjoyment,but no vehicles and no hunting are allowed.
Paynesville was the right size of community for The Nature Conservancy to have an office, said Maile. In the summer, a half dozen college kids will stay at the house, located on Highway 55 near the high school, as part of the work crews, many being AmeriCorps volunteers.
Paynesville is also 25 minutes to the furthest preserve and only five miles to the closest.
Right now, The Nature Conservancy is not pursuing purchases or easements in the local area, but Maile is willing to help farmers with restoration work, whether prairie or wetlands. He can give advice on everything from the type and location of trees, to the type of grass, and to program economics for CRP or CREP. The local office number is 320-243-7422.
Maile is a native of Cold Spring who currently lives in Holdingford but plans to relocate to the Paynesville area. In addition to his outside work for his job, he is an avid fisherman and hunter.
---
Contact the author at editor@paynesvillepress.com • Return to News Menu
Home | Marketplace | Community
---