Part 2: Heather Henderson's story
Being sick, but not looking it
This article submitted by Michael Jacobson on 2/07/01.
One of the things on Heather Henderson's mind last September was a fear that she would be rejected for treatment of the eating disorder that had plagued her for 11 years.

Knowing that her disease was resurging and her weight and health were slipping, Heather had made an appointment with a treatment program in the Twin Cities. She wanted to enter an in-patient treatment program after her sister's wedding.

But Heather didn't live to keep the appointment, let alone enter the treatment program.

Heather and younger sister Karen were to have been bridesmaids in Heidi's wedding that weekend, but on the morning of Wednesday, Sept. 27, Heather collapsed in her Duluth kitchen and died of an apparent heart attack.

Heather's appointment at the treatment center was for Thursday morning, Sept. 28.

"(Heidi and Karen) said she was worried if she'd be sick enough to get help," explained Heather's mother, Kris. "Still. As sick as she was."

Struggle for treatment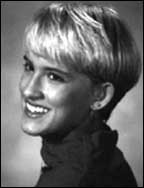 Anorexia nervosa and bulimia nervosa got their grips on Heather during her sophomore year at Paynesville Area High School. Within months of it starting, her parents - Bill and Kris - took her to St. Cloud to get treatment.
And Heather was rejected for a program because she hadn't had eating disorder symptoms long enough and didn't meet the criteria for treatment. "We couldn't get her help," said Kris.
In the 11 years that she struggled with her eating disorder, Heather would use individual counseling, take anti-depression medication, try support groups, and seek formal treatment.
"That was one of the frustrations," said Kris. "The level of treatment she was in was always two steps behind what she needed."
Heather's weight might not be low enough, her recent weight loss might not be great enough, or her blood chemistry might not be abnormal enough, and she wouldn't be allowed into the program. "All these different criteria they had were too general and wrong for Heather," said Kris.
After graduating from high school in 1991, Heather attended Hamline University in St. Paul. After two years there, her disease worsened.
In the summer of 1993, she tried to enter an in-patient program in St. Louis Park, but only was accepted into a month-long outpatient program. Her parents had to pay, too, because insurance wouldn't cover it.
After college, Heather applied to be part of a university study but was rejected. "What happened there was she was neither anorexic nor bulimic enough," explained John Hand, her boyfriend at the time. "She was both."
Resisting treatment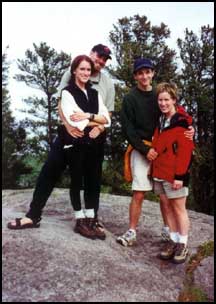 Heather hid her eating disorder, kept it secret from all but her very closest friends and family. When it intensified, she would not want to talk about it even to her family. It was as if she wanted to think that by keeping it to herself she could keep her family from worrying about her.
"It was really a big step when she would agree to get help," explained Bill.
Heather (pictured at left on a hike last summer with herfiance Sean, brother-in-law Lee, and sister Heidi) might have appeared healthy, but her eating disorder would claim her life three months later.)
Heather tried joining support groups in the Twin Cities, in Morris (where she completed her college degree), and in Duluth, where she lived for the past three years. But these never seemed to provide the support that Heather needed at the time. When her disease was at a stage that led her to seek companionship, camaraderie, and support, other people were not fully committed to the support group.
Eating disorders come with terribly mixed messages. At times when Heather felt sick and looked for help for her disease, she still looked fine, albeit thin, on the outside, still wore her fabulous smile, and still maintained her up-beat attitude and strong work ethic.
"Here I am having difficulty with my eating disorder, and everyone says how great I look," her fiance, Sean, recalled her saying. "That's the thing with eating disorders," he continued. "There can be this most incredibly vibrant person, like Heather, and she's dying of an eating disorder. And you don't know it."
She feels sick, and people tell her she looks great. So she goes to get medical help, to confirm her illness, and she's told she isn't sick enough.
"What other illness do you have to prove you're sick enough to get help?" Kris asked.
"It's a huge struggle. It really contributes to the problem," said Kitty Westin, whose daughter, Anna, died as a result of an eating disorder.
Westin, who started the Anna Westin Foundation with her husband, Mark, believes that the difficulty in getting insurance coverage is a factor in the shortage of treatment programs for eating disorders.
Suit against Blue Cross
In speaking out after their daughter's death, one of the things Bill and Kris hope to change is to get better access to treatment for eating disorders and to get insurance companies to cover the costs.
Instead of assisting in wedding plans for Heather and Sean, who were to have wed in April, Bill and Kris will have to settle for trying to help others avoid the pitfalls their daughter could not.
One of the things that gives them hope is a suit by Minnesota's Attorney General Mike Hatch against Blue Cross and Blue Shield of Minnesota.
Hatch filed the civil lawsuit in October, a couple weeks after Heather's death. Heather's case is not included as evidence in the case, but several people sent Heather's obituary to Hatch, who has contacted the family.
Anna Westin's case is used in this suit. Hatch accuses Blue Cross of denying necessary medical care to sufferers of mental illness, eating disorders, and chemical dependency. "It is wrong for any HMO or health insurer to deny coverage for medically necessary health care treatment. The atrocity is magnified when the denials are imposed on children with mental illness and eating disorders," he said.
The suit accuses Blue Cross of unwarranted delays, unlawful excuses, and unnecessary hurdles in attempting to get coverage, of denying coverage after "paper reviews," and of terminating coverage during long-term treatment programs.
"We believe managed care has deliberately and systematically withheld treatment from eating disorders and mental illnesses," said Kitty Westin. Westin was shuffled between offices, waited on hold with a cup of coffee, and saw her daughter sent home from the hospital when her vital signs showed improvement, despite the root cause of her eating disorder still existing.
Westin said it was difficult to fight the bureaucratic procedures and appeals process when her daughter was in critical condition. Her daughter was still a juvenile and under the family's health care policy.
"I can't imagine trying to do it on your own," she said. "Being sick and trying to do it at the same time? It's impossible."
The suit also accuses Blue Cross of false advertising for using phrases like "easy access to the care you need" and "we make sure you get the care that's best for you."
The attorney general seeks civil penalties, restitution, and a change in business practices from the HMO.
A spokeswoman for the attorney general said the suit, while focusing on Blue Cross, could send a larger message to the insurance and medical industry. If the state prevails, paying for coverage might become a prudent move. The Minnesota Department of Human Services, the spokesman said, has found 3,000 cases where the state has provided services instead of Blue Cross, at a cost of $11 million to the state.
"Truly, our hopes are that policy will change, and not just Blue Cross Blue Shield...but all managed care," said Westin. The foundation is also hoping to change national policy, and Westin said Sen. Paul Wellstone has been a big help in Washington, D.C. Westin is active in a national coalition for eating disorders, which also includes Heather's former organization, Dads and Daughters.
"Frankly, I don't think it's going to change until people are absolutely insisting that it change," she said.
The suit, which is in the discovery phase, made the headlines last week because the attorney general complained that Blue Cross was not turning over requested documents.
"The cavalier attitude taken by insurance companies as it relates to eating disorders is particularly destructive," Hatch responded in an October letter to some of Heather's Duluth acquaintances. "This is because the daughter (or in some cases an adult woman) will use denial of health treatment by the insurer as confirmation that she doesn't really need treatment."
Heather had no illusions about her disease. She knew the statistics and the potential consequences, as did her family.
"We were worried for years about her," said Kris. "We were afraid for years because we knew the long-term effects of that disease."
Heather knew, too. Her knowing, though, wasn't enough for her to escape from the clutches of the disease, even as she spent much of her professional life fighting it through the advancement of gender rights.
She fought the messages our culture aims at girls and women. She endeavored to use education - through newspaper journalism, magazine articles, and the Dads and Daughters website - to thwart eating disorders, to change the culture so it wouldn't tell women and men to starve themselves.
(Next week, Heather's story will continue with a look at the cultural messages that support eating disorders and her efforts to change them.)
---