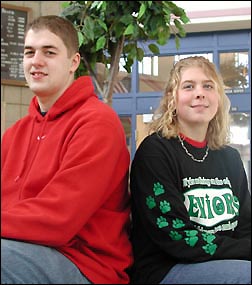 Seniors Jon Schefers and Jen Hess were chosen by the high school fine arts teachers and coaches as Paynesville's nominees for the Arts, Academics, and Athletics (AAA) Award.

Schefers and Hess competed in the district competition in January, which was held in Paynesville, and Hess was named the female district winner. Schefers was the male runner-up by a single point.

Hess will now compete against three other district winners in the Section 5A competition in St. Cloud tonight. The district winners will be recognized at halftime of the District 20 boys' basketball game at Halenbeck Hall at SCSU on Saturday, March 9.

Because they know their classmates so well, Schefers and Hess agreed that it was an honor just to be chosen as the local nominee. "I was very pleased because in our school there were a lot of kids who deserved it,"Ęsaid Schefers.

"There could have been more than one girl and one boy who could have been nominated," he added.

The AAA award, sponsored by the Minnesota State High School League, recognizes well-rounded students for their achievements in all three areas, as well as their community service. Both Schefers and Hess had to complete an application listing their achievements, have a faculty recommendation, and write a 250-word essay about how arts and athletics will help their future.

An honor student, Schefers was inducted into the National Honor Society as a junior. He has served as a peer tutor for two years and on the student council for one. He was nominated for a Wendy's High School Heisman.

He plays the trombone and the bass trombone in the marching band, pep band, jazz band, and concert band. Last year, he helped the ensembles earn two superior ratings. He also earned superior ratings in the solo and ensemble competitions for a trombone trio and in a percussion ensemble, where he played a jug. This year, he is the trombone section leader.

He has also sung in the pops choir for four years and the concert choir for three, helping both earn superior ratings a year ago. He also earned a superior rating as part of a male vocal ensemble. This year he is the president of the choir.

In sports, he has played football and basketball for four years during high school and been on the track and field team for two. He was a captain of the football team both his junior and senior seasons and earned honorable mention both years.

He also serves as a D.A.R.E. role model, as a member on the community education advisory board, and volunteers through 4-H and his church. At St. Margaret's Church in Lake Henry, he is a mass server, an usher, and sings in the choir.

"The most important of all skills that I have developed is the ability to balance many activities at once," he wrote in his essay. "Being in more than one activity at a time can be quite tedious and stressful, but with effective planning anyone can balance a busy schedule. High school athletics and fine arts activities have taught me how to discipline and value my time."

Schefers plans to attend the college of agriculture at either Iowa State or the University of Minnesota next fall. He plans to major in dairy science and hopes eventually to work for an agribusiness company.

Hess is also an honor student who was inducted into the National Honor Society as a junior. She is the student council president this year and has served as a peer tutor in math and English and as a classroom aide in study hall. She also is a peer helper, serves in TARGET leadership, and was nominated for a Wendy's High School Heisman.

She has sung in the choir for three years and the pops choir this year. She has also been a flag carrier in the marching band for two years.

In sports, Hess has earned eight state medals for top three finishes for her long-distance running in cross country and track. She is a two-time Class A cross country champion and helped her team to a second place finish at state in 2001. She is a two-year captain in both cross country and track and has earned Hardest Worker awards from her teammates as well as All Conference and all-area selections.

At St. Margaret's Church, she teaches religion classes, participates in youth group, and helps with church projects.

"I feel fortunate to have been involved in activities in high school that have helped me become an independent, determined person that will strive to complete each task in life with vigor and enthusiasm," she wrote in her essay. "I have learned valuable lessons in the fine arts and in athletics that will continue to be important as I proceed on to college to pursue for a career."

Hess has accepted a full scholarship to the University of Minnesota, where she will run both cross country and track. She is undecided about her course of study, considering both the medical field and the social sciences.
---
Contact the author at paypress@lkdllink.net • Return to News Menu
Home | Marketplace | Community
---