Elementary student enjoy Skatetime
This article submitted by Stephanie Everson on 2/4/97.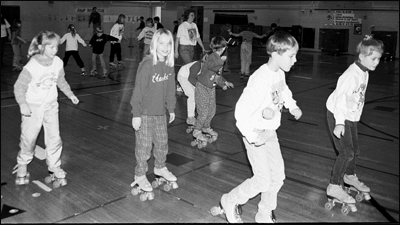 Friday, Jan. 31, the Paynesville physical education classes began their in-house roller-skating program. Each phy ed class, grades one through five will be able to participate for five days of skating.

The school rented the skates from a company called Skatetime based in the cities, that has been offering their program to schools for four to five years. So far, Skatetime has been to many schools in the five-state area. Sharon Johnson and Diane Dutcher saw the promotion at a workshop and thought it would be a fun program that hasnít been offered to Paynesville phy ed students, and since the skates have soft wheels they wonít damage the gym floor.

Schools usually contract the skates for a period of two weeks, but Skatetime is very willing to work with each schoolís individual needs. "In Fergus Falls the kids have had so much school cancelled theyíve had to keep the skates longer,Ē Dutcher said.

Each student pays two dollars which includes skate rental as well as delivery and pick up of equipment. The charge is actually five dollars a person, but the Legion has picked up three of the five dollars.

"This is the first time weíve done this and the kids are excited,Ē Dutcher said, "but, weíll assess the program each year."

Class time with the younger grades will primarily be spent learning skills, but because the older students catch on faster, they'll spend more time on various skating games.

---