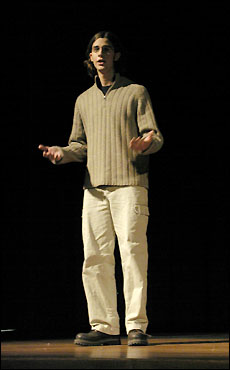 Thespians from Paynesville Area High School were judged to be the second best at subsection competition and advanced to compete at sections this weekend.

For the first time in 20 years, a group of students from Paynesville Area High School took part in one-act play competition this year. The subsection competition was held on Saturday hosted by Howard Lake-Waverly-Winsted, who won.

Paynesville tied for second and beat Eden Valley-Watkins on the second tiebreaker to advance to the section competition. Other schools competing at subsection were ACGC, BBE, Kimball, Maple Lake, and NL-S. Only the top two schools advanced to sections.

Narrator Peter Schreifels addresses the audience during a public performance of the one-act play on Thursday night in the auditorium.

"We were pumped. It was awesome," said junior Sami Tierney about taking second place and advancing to sections. "It was our first year, and everybody else had been there before," she added. "We were up (on stage) dancing and jumping around. We were thrilled." Coach/director Joan Nevitt said the team overdid its celebration after taking second but the team was very happy to do so well in their first try at one-act play. It is believed to be the first drama trophy for PAHS.

Nevitt was especially pleased that one of the judges rated their original play the best at subsections. The section competition will be held in the auditorium at Atwater-Cosmos-Grove City High School on Saturday, Feb. 8, starting at 8:30 a.m. Paynesville, as the District 20 runner-up, is scheduled to stage their play at 1:35 p.m.

Eight teams will compete at sections, with the top school advancing to state. Admission at sections is $5 for adults and $3 for students.

Ten PAHS students participated in the one-act play, called Spirit of the Senaca, which was based on a short story and written as a play by Nevitt. The students held auditions in November and rehearsed the play throughout January.

Nevitt credits the students with developing their characters and the stage movements of the play. "This is their play," she said. "They have ownership of it."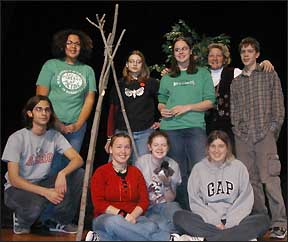 The play, according to Nevitt, "is a portrayal of a young woman who is brought up listening to words of wisdom within her Native American culture. After living in the city, she goes home where she realizes that the ways of her people are more than the truth...they are the heartbeat of her soul."
Cast members are: (front) Peter Schreifels, Sami Tierney, Lindsey Pelton, and Susie Swyter; (back) Courtney Colbert, Jenn Terres, Amanda Halvorson, coach Joan Nevitt, and Jeremiah Gleitz. Not pictured are Hannah Felling and Callie Frieler.
Cast of Characters
Spirit of the Seneca
Narrator: Hannah Felling
Narrator: Peter Schreifels
Storyteller: Sami Tierney
Sly Fox: Courtney Colbert
Little Burnt Face: Jenn Terres
Sisters: Susie Swyter and Amanda Halvorson
Village Maiden: Lindsey Pelton
Director: Joan Nevitt
Music: Callie Frieler
Sound and Lights: Jeremiah Gleitz

Most of the cast members had previous experience with drama productions at school, but two did not. Nevitt, who volunteered as coach, credited the students for the success of the one-act play this year. "They are talented," she said. "They are willing. They are really enthusiastic. That makes it easy to do." This is the first time in nearly 20 years that PAHS has competed in one-act play. The last time the school competed is believed to be in 1982 and 1983.
---
Contact the author at editor@paynesvillepress.com • Return to News Menu
Home | Marketplace | Community
---