Pairing Jesus with an electric guitar, horns, and drums, the Christian music group On Call packed the pews last week in Paynesville. Four PAHS students - sophomore Amanda Kern, senior Chris Kern, junior Adam Ingalsbe, and junior Sami Tierney - sang with the group at Paynesville Lutheran Church last Thursday.

Spreading God's word through Christian music is the primary mission for the group. They combine traditional songs with current music styles. The Willmar-based group is part of Youth For Christ, a nondenominational youth organization.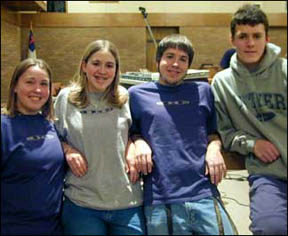 In his third and final year in On Call, Chris Kern speaks highly of the group. "It's a powerful experience to lead people in worship," he continued. "It's an incredible feeling."
On Call, a Christian music group that is part of Youth for Christ, performed at Paynesville Lutheran Church last Thursday. Paynesville members (from left) are: junior Sami Tierney, sophomore Amanda Kern, senior Chris Kern, and junior Adam Ingalsbe.
The group's name stems from the notion that when God calls on you to share in some way, you're ready to go, according to director Matthew Cherry. A "biblical pager" of sorts, he added.
Composed of about 60 high school sophomores, juniors, and seniors, On Call has two sections. Each one travels around the area performing 15 to 20 concerts a year, said Ingalsbe, who is in his second year with the group.
All four of the Paynesville students - who also belong to the PAHS choir - auditioned for their position with On Call and primarily sing with the group.
Amanda Kern participated in Fast Forward, a group for seventh through ninth graders, two years ago and joined On Call this year. "I really like the fellowship," said Kern, "and singing about God through music."
"I really like the camaraderie and teamwork we build among us and reaching out to our peers through fun songs," agreed Tierney. "All of us can come together at practice and concerts to spread the word using the talents that God gave us," she added.
Besides music, members performed skits to demonstrate situations and issues that challenge today's youth, such as drug and alcohol abuse, self-esteem and suicide, and body image and anorexia.
Using a flannel-covered board and a miniature image of Jesus, members symbolically removed or added Jesus to represent someone who either embraced their Christian values or who turned away from their beliefs. The skits all convey the importance of being yourself and trusting in your faith.
For more information about On Call, the West Central Minnesota Youth for Christ, go online to: www.yfcminnesota.com.
---
Contact the author at editor@paynesvillepress.com • Return to News Menu
Home | Marketplace | Community
---