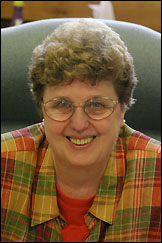 Carolyn Swyter's most vivid memory about being hired by Farmers & Merchants State Bank 40 years ago was the location of her job interview: a 1955 pink and white DeSoto parked in front of the bank.

The car was parked on Main Street in Roscoe, where the bank was called First State Bank of Roscoe before moving to Paynesville, and changing names, in 1964.

"There wasn't any place in the bank to hold an interview," recalled Swyter. "There was just one room."

Swyter, a Paynesville native, had attended SCSU for 18 months and worked for 3M for a year before hearing about job openings at the bank and applying. She worked at the Roscoe bank for nearly two months before the business moved to Paynesville.

At the start of her banking career, she did everything - sorting, posting, waiting on customers, and bookkeeping - said Swyter. In 1974, she became the bank's cashier, an officer position in charge of the tellers and handling scheduling, accounts payable, and payroll.

The biggest change in banking in her 40 years has been computers, said Swyter. "When we started we still had the hand crank adding machines," she explained. She can remember how nice electric calculators and electronic typewriters seemed, let alone modern computers.

Despite her roots in Paynesville - she can trace four generations of her family to Paynesville - Swyter never thought she would work in one place for 40 years. She attributes the working atmosphere at the bank to that longevity, since she has only had three bosses in 40 years. (Her colleague, Janice Zumwalde, celebrated 40 years with the bank in November.)

The bank will hold an open house for Swyter on Friday, Feb. 6, throughout the day.

Away from work, Swyter likes to sing with the Directors, with the String o' Pearls, and with the choir at Grace United Methodist (to which she has belonged for 40 years, too.) She also likes scrapbooking, genealogy, and woodworking.
---
Contact the author at editor@paynesvillepress.com • Return to News Menu
Home | Marketplace | Community
---