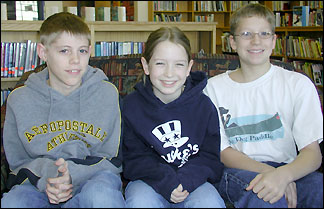 Sixth grader Taylor Haag, seventh grader John Buermann, and eighth grader Curt Nietfeld were chosen as Students of the Month for January at Paynesville Area Middle School.

Eighth grader Curt Nietfield, sixth grader Taylor Haag, and seventh grader John Buermann were chosen as the Students of the Month for January at Paynesville Area Middle School.

Each month, teachers recognize three students in the middle school - one per grade - for their attention and work in school and their cooperation and relations with other students and the school staff.

Haag said she was pleased to get the award, Buermann said he was shocked, and Nietfeld said he was honored.

Taylor, the daughter of Dan and Connie Haag, participates in theater and plays basketball, softball, and volleyball at school. Her hobbies include playing hockey, reading, hanging out with friends, and scrapbooking.

She thinks she won the award because she works hard, gets her work done, and has fun at the same time.

Her teachers say that she is a conscientious student who cares about her classmates, never puts anyone down, and has a great attitude. She has a unique ability to know when to be serious and also when to lighten up and have fun. John, the son of Edith and John Buermann, sings in the choir, plays in the band, and participates in drama and speech. At home, he likes to read and watch TV.

He thinks he received the award because he was a good student.

His teachers say that he is a hard-working student, responsible, and diligent. He is friendly and polite, contributes in class, and is eager to learn.

Curt, the son of Brian and Judy Nietfeld, plays baseball, basketball, and football. He also likes to snowmobile, to go four-wheeling and dirt biking, and to hunt.

He thinks he won the award because he tries hard at school.

His teachers say that he is well mannered and works hard in his classes. He is polite, responsible, treats others with respect, and consistently works hard.

Sixth grader Jordan Severance, seventh grader Heather Rondeau, and eighth grader Colby Peterson were chosen as Students of the Month in October at PAMS; sixth grader Kayla Lieser, seventh grader Jamison Wall, and eighth grader Natalie Leadem were chosen in November; and sixth grader Riley Kampsen, seventh grader Callie Bennett, and eighth grader Keegan Meagher were chosen in December.
---
Contact the author at editor@paynesvillepress.com • Return to News Menu
Home | Marketplace | Community
---