In November 2001, just months after the terrorist attacks of 9/11 and just prior to the war in Afghanistan, Paynesville native Karen Koshiol Breuer described her life in Saudi Arabia - with her husband Bryan and son Nicholas - to Press readers through a two-part series of question-and-answer articles. This is the third installment in a follow-up series about their family, which now lives in Dubai.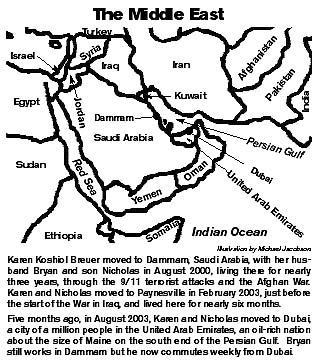 Their family moved from Phoenix, Ariz., to Dammam, Saudi Arabia, in August 2000. Karen and Nicholas lived in Saudi Arabia for nearly three years, leaving in February 2003, just before the start of the War in Iraq. They lived in Paynesville for nearly six months while Bryan continued to live and work in Saudi Arabia.
Karen and Nicholas were relocated to Dubai, United Arab Emirates, in August 2003 and have now lived in the Middle East again for five months. Bryan still works in Dammam, Saudi Arabia, but he flies to Saudi every week and returns to Dubai on weekends.
Karen, who graduated from Paynesville High School in 1973, is the daughter of Milt and Rosemary Koshiol of Paynesville. Again she has shared aspects of their life in the Middle East with the Press via e-mail. (To read Karen's articles from November 2001 or the previous two articles in this series, go online to www.paynesvillearea.com/news/saudikoshiol/.)
10. How are the American military operations in Afghanistan and Iraq perceived in the Middle East?
All I can tell you is what I have heard or read in the papers. Before the Iraq War began, Middle East people often wrote articles saying that if the United States went into Iraq, it would have catastrophic results within the Middle East. They wrote how rebuilding Iraq would be a tremendously complex task with multiple complications to deal with. Later, articles expressed great humility and sadness for a neighboring Arab country to be in such dire need, for instance, after Saddam's capture. In the Arab world, it appears to be more a matter of pride versus ousting a dictator.
We have also read articles rejoicing in the capture of Saddam that express happiness, not sadness, of Saddam's capture. They write of much hope that America and Great Britain will continue with the peace-keeping operations in Iraq and the hope that other countries will join the U.S. in the relief effort soon.
11. How do you and your family spend your leisure time while living in the Middle East?
As a family activity, we enjoy going to the desert (during the cooler months) to camp, walk, or ride our four-wheeler. There are many points of interest in this part of the world, and we have just begun our sightseeing.
One beautiful trip we took was to the Al Liwa Oasis, which is part of the Empty Quarter located near the unmarked border between the United Arab Emirates and Saudi Arabia. The Empty Quarter, also known as the "Rub Al-Khali Desert," has some of the largest and most beautiful sanddunes in the world. Another interesting area we've seen is the Hatta area, in the barren mountains of Oman, not far from Dubai. Here, one can explore old forts and the low dry riverbeds called wadis.
Shopping is always a fun and an interesting experience in the Middle East, visiting the spice and gold souks (markets), the Persian rug souks, the fish market, the Indian/Pakistani shops, the Satwa and Karama areas, and the Camel Market. There are many exciting areas to shop in old Dubai, (besides the modern shopping malls), and a bargain can always be found.
Another fun thing to do is to take a taxi boat (called an abra) across the Dubai Creek, for a small fee of 50 fills (pennies). People also take desert jeep safaris, where one can stay overnight in a Bedouin tent in the desert or go to the camel and horse races, to movies, and bowling, among other numerous family-oriented activities.
My son takes karate lessons, as does my husband. Nicholas also plays baseball in the Dubai American Little League, and Bryan still plays on a softball team while in Saudi.
I belong to the American Women's Association, which is a group of American ladies who meet once a month. The group provides a great way to meet other women and is a must-group to join for newcomers. We meet formally once a month and throughout the month; scrapbooking, sewing groups, book clubs and charity events are offered.
So far, I find Dubai to be a very busy western-like city with much to do. It also has many concerts, along with other cultural events. We have seen fireworks numerous times since our move here. Currently there is a jazz festival in town, in conjunction with the annual month-long "Dubai Shopping Extravaganza." This huge shopping event is held each year and brings in thousands of people from all over the world.
12. What has been the most difficult part of living abroad?
Living abroad is often adventurous and exciting, but it's not necessarily easy. With the exception of safety issues while living in Saudi Arabia, the hardest part of living abroad, for me, is being away from my family. Thankfully, support and friendship among other westerners comes easily.
Other difficulties include adapting to different cultures and foreign cities, enduring 24-hour flight/layovers while traveling "home," getting used to crazy driving and different standards on the highways, dealing with people who don't speak English, and starting over with new friendships. As expats, people and friends come and go frequently, and it is a sad experience to see good friends leave.
13. What is your overall impression of living as an expat, especially in the Middle East?
We mostly live a very normal life here. During the week, while Bryan is in Saudi, our son goes to school, does homework, plays with friends, has supper, does whatever, practices his clarinet, and goes to bed. Sounds pretty normal doesn't it?
And life can also be just as hectic as anywhere else, too. On one hand, we try to live as normal a life as we can, yet it certainly is an entirely different world outside these doors. Without a doubt, there are many exciting times while living abroad, but there are also days when it is difficult to leave the "normalcy" and comforts of our home and gather up the energy and interest and willingness it takes to live a normal life in a foreign land.
But it has been our choice to live here, and I wouldn't give up anything we've experienced during our time living in Saudi Arabia and now in the United Arab Emirates. I do believe the positive experiences far outweigh the negative. We have met wonderful people from all over the world and have done so many interesting things. We've experienced the world in a way I never dreamt I'd be experiencing, and I do not regret the choice we made to live abroad.
Overall it has been a great experience living in the Middle East, with some strange and scary times and some sad times, but I will forever have fond memories of all the experiences we've had. I also feel our son Nicholas has adapted well, although we have all had our trying moments. He attends a superb international school, has made new friends, and has experienced and learned so much in these four short years.
One thing that makes me happy is that Nicholas has the advantage of spending summers in Minnesota where all our relatives live. That is important to me, so he does not forget his roots. Nic will definitely have very different memories of growing up from what my husband and I have.
Looking at the past four years, I have to say, living an expat life has definitely been a positive and worthwhile experience. Living in the Middle East has been full of excitement and mystery, adventure and fear, craziness and funÉall mixed together. But we have learned much about the international community, about other people, ourselves included, and have also gained an appreciation of the Arab culture.
Overall, we feel that Dubai is "home" for now, and we will still take it day by day.
Part I (01/21/04) -- Part II (01/28/04)
(Edited by Michael Jacobson)
---
Contact the author at editor@paynesvillepress.com • Return to News Menu
Home | Marketplace | Community
---