Snowmobile trail named for Earl Voss
This article submitted by Michael Jacobson on 2/2/99.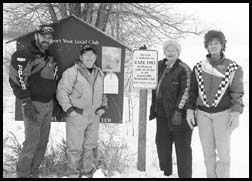 A stretch of snowmobile trail east of Paynesville has been dedicated to the memory of Earl Voss, for his long service in the Koronis Hills Snowmobile Club.

The dedicated trail runs from Highway 55, starting east of Mud Lake just past an old junkyard, up towards Rice Lake, and stops when it makes a T-junction at the railroad tracks, with one branch heading for Paynesville and the other heading to Roscoe. ďHe helped establish (that trail) years ago, long before any of us were in the club,Ē explained Mike Christen, past president of the club.

South of Highway 55, the trail joins the system in Meeker County maintained by the Manannah Snow Blazers.

Until his death a year ago, Earl was an active member in Koronis Hills Snowmobile Club. Years ago, he was a fan of snowmobile races in the area. He was a club founder and came to all the functions. ďEven when he was not well, he showed up,Ē said Christen.

His wife, Roma, was secretary and treasurer of the club for a number of years.

Creating and maintaining snowmobile trails is a primary function of the club. It starts by looking for a scenic route without obstacles. The hardest part can be gaining permission from the land-owners. Each landowner signs a permission slip allowing the trail to go across their land. Then they are not responsible for accidents on their land.

Trees along the trail must be trimmed, and signs must be posted. The club maintains 46 miles of trail in the area, and this year they doubled the number of signs along it.

Additionally, they had to erect over 300 feet of snow fences in two different places to keep snowmobilers on the trail. ďStay on the trails,Ē said current club president Mike Kotschevar. ďIf you go off the trail anywhere, youíre trespassing.Ē

A handful of irresponsible riders make maintaining the trails much more difficult, Kotschevar and Christen agreed. Trespassers anger landowners and threaten their willingness to permit the trailís passage on their land. ďThose are the guys that should be in the club,Ē said Kotschevar, ďto realize how much (work) goes into it.Ē

During the winter, the club tries to groom the trail twice a week, snow permitting. It takes the volunteer drivers many hours to cover 46 miles of trail on a groomer traveling at just five miles per hour.

The expenses in maintaining the trails are too variable to make a proper budget, depending on the snowfall and the need for grooming. Fuel itself is a variable cost, but maintenance expense on the groomer is the biggest, even though club members constantly keep it well lubricated.

The club holds fund raisers, like their pancake breakfast last Sunday, the tractor pull last summer, and a snowmobile raffle last winter. They collect membership fees and accept donations from members and nonmembers. They also receive reimbursement from the state for maintaining grant-in-aid trails. This year they also received $1,000 to maintain trails this year from a statewide snowmobile club.

ďThis year we have yet to have a club ride,Ē said Kotschevar. ďWeíre swamped.Ē

Upcoming club events include a two-day club ride to Alexandria on Feb. 6 and 7, and the Governorís Ride Rendezvous in Willmar from Feb. 11-14. The members will ride up to Alexandria on Saturday, stay overnight, and return home Sunday. The Governorís Ride is a four-day event that will be held in Willmar this year. They hope the new governor will be leading a ride on Friday, and members of the Koronis Hills Snowmobile Club will be leading guided rides on Saturday. Contact Mike Kotschevar at 320-243-4038 for more information or registration.

The club meets every second Friday of the month at 8 p.m. in the basement of the American Legion.

Current officers are: Mike Kotschevar, president; Larry Mathison, vice president; Harry Schuelke, treasurer; Diane Keller, secretary; trail coordinator, Dick Putzke; and directors Neil Herzberg, Mike Keller, Dan Hukriede, and Cal Knapp.
---