Lions name service award winners for February
This article submitted by Michael Jacobson on 2/2/99.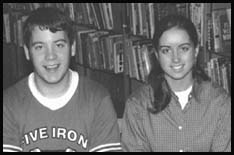 The February recipients of the Lions Service Award are Lynn Stoneburner and Josh Ryan.

The Paynesville Area Lions Club initiated the service awards to recognize seniors in high school who have demonstrated outstanding character during the school year by offering their time for the benefit of others. The spirit of service is a core value of the Lions Club, and the award is intended to encourage this in students.

In the second year of the awards, eight students will be selected. Four were picked last fall and two more will be chosen in the spring. Each recipient will receive a $350 service award to be used for further education.

Lynn is the daughter of Bob and Jane Stoneburner. She is a member of the youth ministry team at Grace United Methodist church, where she also helps in the nursery and contributes special music to the worship service. She helps in youth fund raisers and took a mission trip to Mexico. She also serves on the Staff/Parish Relations Committee and helped with the St. Nick project.

In school, she has served on the student council and is a member of the National Honor Society. She participates in golf, volleyball, Letter Club, DECA, German Club, choir, and in the jazz, marching, and concert bands.

She also has been involved in Target Leadership and as a DARE role model.

Outside of school she works at Tuckís Cafe and was the winner of the talent portion in the Miss Paynesville Pageant.

Josh is the son of Bill and Pat Ryan. He is actively involved with the youth group at St. Louis Catholic Church. He helps with youth masses and is a member of the search committee for a youth minister. He has worked with religion classes and helped with confirmation retreats.

He sings with two parish choirs and with the regional singing group, ďOn Call.Ē

In school, he has served on the student council and is a member of the National Honor Society. He participates in golf, pops choir, concert choir, concert band, drama, and the Letter Club.

He also is a Big Brother in the elementary school and helps with Target Leadership.

He also works at Wallyís G & T.
---