Feedlot meeting draws about 200 area farmers
This article submitted by Michael Jacobson on 2/2/99.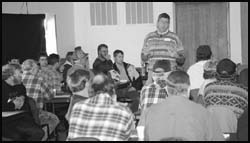 Around 200 farmers from the area attended an informational meeting on Thursday in Roscoe. Virtually every area town was represented at the meeting.

The meeting included a review of the Stearns County Feedlot Ordinance, which became effective on Sept. 18, and discussion of anticipated changes to the state rules, which should be implemented in 1999.

The timely information certainly helped the attendance. ďWe were pleasantly surprised by the turnout,Ē said Steve Sellnow, district conservationist with the USDA Natural Resources Conservation Service based in St. Cloud. A meeting on the same topics drew 150 farmers the week before in Freeport.

ďThis is the kind of meeting they need more often,Ē said local farmer David Brinkman, who attended the meeting.

ďI thought it was a very important meeting, and it was organized very well,Ē he added.

The meeting featured seven speakers from the University of Minnesota Extension Service, the Minnesota Department of Agriculture, Stearns County Environmental Services, Stearns County Soil and Water Conservation District (SWCD), and USDA Natural Resources Conservation Service. It started at 9 a.m. at the Roadside Tavern and lasted into the afternoon. There were only short breaks, except for the free lunch donated by several area agriculture manufacturers and businesses.

Good information. Free food. ďWhat more could you want?Ē asked Brinkman.
Jon Kolstad from Stearns County Environmental Services briefed the farmers on the new county feedlot ordinance. All farmers will be required to register their feedlots before Sept. 18, 2000. The ordinance includes a number of setbacks, with distances that vary due to the size of the farm operation. Those who register before the deadline will be ďgrandfathered in.Ē Those who do not will be required to meet all the setbacks or will have to apply for a variance.

Any expansion will have to meet all setbacks or cannot further encroach the setbacks under which the farm was registered.

Kolstad urged farmers not to wait and to register their feedlots as soon as possible. There are estimated to be about 2,700 feedlots in Stearns County.

Most of the questions to Kolstad dealt with the technical requirements of the ordinance, but one audience member angrily wondered why feedlots were singled out but the overuse of fertilizers by residential homeowners and golf courses was not addressed in any county ordinances.

The state hasnít revised its feedlot rules since 1978. ďLivestock, agri-culture, have changed a lot in those 20 to 21 years,Ē said Sellnow. ďMany would argue that the rules havenít kept up.Ē

For the last three years, the Minnesota Pollution Control Agency (MPCA) has been working on revising the state rules. They hope to have them approved this summer and in place yet this year.

These new rules might mean requirements beyond the Stearns County ordinance. But Harold Stanislawski from the Minnesota Department of Agriculture said the county ordinance was a good one and additional requirements should be minimal.

Pollution to surface water continues to be a driving force behind the new requirements. Sellnow disputed whether the pollution actually justified the current attention and thought the belief that agriculture is becoming more industrialized fueled the interest. There is runoff from basins, he acknowledged. ďSolutions can be expensive,Ē he said, and compared it to a cityís waste system.

ďOne 500-cow dairy herd can produce that much waste, so itís no small task to hold and dispose of that properly.Ē

One relatively inexpensive solution will be manure management plans. The days of dumping manure indis-criminately are ending. Farmers were urged to test their manure for nutrient levels and will soon be required to abide by setbacks and record the areas where manure is spread.

If more elaborate systems are needed, Dennis Fuchs, district administrator for the Stearns County SWCD, said they have over $500,000 in federal funds and $200,000 in MPCA and Environmental Protection Agency funds for cost-sharing projects. Up to 75 percent of manure system and manure pit projects may be covered by cost share, and the Stearns County SWCD also has low-interest loans to help farmers fund the remaining 25 percent.

ďWeíre going to help them not only financially but technically,Ē said Fuchs, a Paynesville Area High School graduate. Technical assistance includes: manure management, pollution control abatement systems, and design assistance.

Each farm needs to be evaluated on a case-by-case basis, considering the soils, the geology, and the landscape. Fuchs said grants will be based on the severity of environmental impact, but urged all farmers to contact his office at 320-251-7800 extension 3. The more farms they can list for improvements, he said, the easier it is to acquire federal and state grant money.

Sponsoring the event were the Stearns County SWCD, the U of M Extension Service, and Stearns County Environ-mental Services.