Sixth grader Greta Keller, seventh grader Matt Schmiesing, and eighth grader Emily Lieser were chosen as Students of the Month for January at Paynesville Area Middle School.

Each month, teachers recognize three students in the middle school - one per grade - for their attention and work in school and their cooperation and relations with other students and the school staff.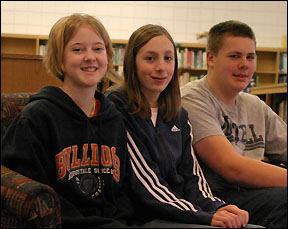 Keller, the daughter of Diane and Mike Keller, felt good about receiving the award and feels she earned it by getting good grades, by getting all her work done, and by being on time for class.
Greta plays hockey and softball and likes to rollerblade and hang around with her friends during her free time.
Sixth grader Great Keller, eighth grader Emily Lieser, and seventh grader Matt Schmiesing were chosen as the Students of the Month for January at Paynesville Area Middle School.
Her teachers stated that she is hard working, considerate, friendly, and a thoughtful, good student.
Schmiesing, the son of Debbie and Philip Schmiesing, also felt good about winning the award and was very happy. He feels that he received the award because he worked hard and got his work done on time.
Matt plays football and competes in track at school, and he likes to work on the farm and ride four-wheeler away from school.
His teachers described Matt as a super nice student with a great attitude who works hard and is a pleasure to have in class.
Lieser, the daughter of Harvey and Marilyn Lieser, said she was really surprised, and happy, to be named Student of the Month. She thinks she was honored because of her good grades and good attitude.
Her hobbies include training horses, hanging out with friends, and scrapbooking.
Her teachers said that Emily is quiet, a hard worker, friendly, and has a positive attitude.
Previously honored as Students of the Month at PAMS this year were sixth grader Caitlyn Gottwald, seventh grader Amy Dittman, and eighth grader Linda Keller in October; sixth grader Jordan Schleper, seventh grader Hayden Spaeth, and eighth grader Justin Stransky in November; and sixth grader Crystal Roberts, seventh grader Kendra Hengel, and eighth grader Jessica Nietfeld in December.
---
Contact the author at editor@paynesvillepress.com • Return to News Menu
Home | Marketplace | Community
---