Names:
Katie and JoAnn Weidner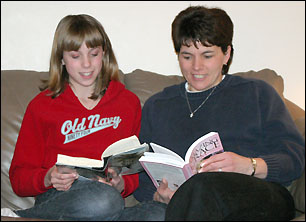 Why do you like to read?
Katie: I like to read to relax, to be able to learn new things, and to take you to a different place.
JoAnn: It's the best way for me to learn something new.
What type of books do you choose most often?
Katie: I like the Little House on the Prairie books because I like the way it's told and detailed about how they lives back then, and I like adventure books.
JoAnn: I read mostly self-help books or inspirational religious.
What books do you remember someone reading aloud to you?
Katie: I remember them reading me A Porcupine Named Fluffy, Teeny-Tiny Tale, and Don't Eat the Teacher.
What is the first book you read completely on your own?
Katie: Dinos Dancing on a Stage was the first one I read.
What is your favorite book?
Katie: My favorite books are These Happy Golden Years, The Child Called It, and also Running Out of Time.
Who is your favorite author?
Katie: Laura Ingalls Wilder is my favorite author.
Please give a summary of the last book you have read.
Katie: The last book I read was The Child Called It. It was a sad story about this boy who struggled to survive because his dad moved away and his mother won't feed him or even act like a mother. She does horrible things to him. After a while, he finally is taken away from her and lives free.
What book would you really like to read?
JoAnn: Family First by Dr. Phil McGraw.
Where do you find books?
Katie: I usually find them in the middle school library and at the public library in the summer.
JoAnn: At the public library or from Crossings Book Club.
Where is your favorite place to read? Why?
Katie: Probably my room because that's the place where it's quiet and I can just relax.
JoAnn: My rocking chair.
What is your favorite snack while reading?
JoAnn: I like to sip a cup of hot chocolate or tea.
Why is reading important?
Katie: It's important because otherwise I don't think you learn as much in life. It's also just fun.
What are your other interests and hobbies?
Katie: I also like to draw, scrapbook, rollerblade, and swim.
JoAnn: I enjoy walking and playing the piano.
---
Contact the author at editor@paynesvillepress.com • Return to News Menu
Home | Marketplace | Community
---