The one-act play at Paynesville Area High School hosted a festival and competed at subsections last week.

On Thursday night, both their one-act play, "The Happy Journey," and the one-act play for New London-Spicer High School were staged at the PAHS auditorium.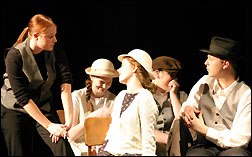 On the drive across New Jersey to visit their married daughter in Camden, the Kirby family stopped to get gasonline. Stage manager (Lauren Vaske) pretends to be a gas station attendant talking to Ma Kriby (Emily Mehr) and Pa Kirby (Shawn Reinke) as their children Caroline (Caitlyn Lien) and ARthur (Troy Gerding) enjoy a laugh in the backseat.
On Saturday morning, Paynesville competed at a four-team subsectional at Sauk Centre. Holdingford won the subsection with "Thurber Carnival," and Sauk Centre took second with "Booby in the Trap," by Ed Monk. Only the top two teams advanced to sections.
This is the third year for a revived one-act play at PAHS. In 2003, PAHS took second at subsections with "Spirit of the Seneca" and advanced to sectional competition. In 2004, PAHS hosted the subsection competition in Paynesville and tied for fourth (out of eight teams) with "The Trial of Joan Called the Maid," about Joan of Arc.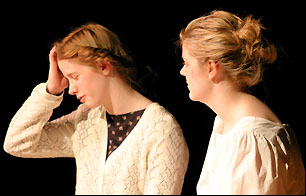 "The Happy Journey" involved a family car trip in New Jersey. It was written by Thornton Wilder, whose more famous works include the full-length play "Our Town."
Ma Kirby (Emily Mehr) talkes with her married daughter Beulah (Lindsey Pelton) about her recent "illness" at the end of "The Happy Journey." The PAHS thespians performed their one-act-play on Thursday night at the PAHS auditorium and then on Saturday at subsection competition at Sauk Centre.
The play was actually a dress rehearsal of a play, with six speaking parts: Stage Manager (junior Lauren Vaske); Ma Kirby (junior Emily Mehr); Pa Kirby (junior Shawn Reinke); Caroline Kirby (junior Caitlyn Lien); Arthur Kirby (senior Troy Gerding); and Beulah (junior Lindsey Pelton).
Three PAHS students served as crew members: sophomore Erica Geurts (sound and lighting and student director), senior Stacy Lahr (props), and junior Katie Schlick (props).
Joan Nevitt directed the one-act play at PAHS once again this year.
Cast of Characters
The Happy Journey
Stage Manager: Lauren Vaske
Ma Kirby: Emily Mehr
Pa Kirby: Shawn Reinke
Caroline: Caitlyn Lien
Arthur: Troy Gerding
Beulah: Lindsey Pelton
Director: Joan Nevitt
Lights and Sound/Student Director: Erica Geurts
Props: Stacy Lahr and Katie Schlick

---
Contact the author at editor@paynesvillepress.com • Return to News Menu
Home | Marketplace | Community
---