Local members of the Minnesota House of Representatives started work at the 2005 legislative session in early January. This week, they share their ideas for the session, which should include a budget for the next two years, a bonding bill, and various other issues.

Local representatives are: Rep. Bud Heidgerken (R-Freeport), whose District 13A includes northern Kandiyohi County and western Stearns County; Rep. Larry Hosch (DFL-St. Joseph), whose District 14B includes the city of Paynesville and Paynesville Township; and Rep. Dean Urdahl (R-Grove City), whose district 18B includes all of Meeker County. All three legislators stressed that they welcome comments from constituents. (See related box)

Local state senators will preview this session in next week's Press.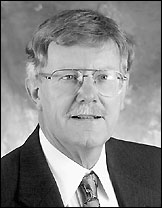 Rep. Bud Heidgerken
As a representative for the district that leads the state in dairy and livestock production, Bud Heidgerken (R-Freeport) is looking to give farmers a direct voice at the capitol. As part of the Agriculture and Rural Development Committee, he is currently working on a bill to help reduce taxes to those selling and buying farms, which will make it easier for children to take over a family farm.
Heidgerken, a former teacher in his second term in the House, also serves on two education committees and considers himself a caucus leader for rural education concerns. Paynesville, like many rural areas, has a property poor school district, and he is interested in eliminating the funding differences between districts in the state.
A new levy option for school districts, proposed by the governor, could allow increased funding for the district of up to $400 per pupil over the next two years, if passed.
A revamp of the pay-scale for teachers has also been suggested by the governor, which would base pay on specific performance factors. The teacher's union has agreed to look at the proposal, which Heidgerken sees as a positive step to eliminate some of the controversy surrounding the plan.
On the Education Reform Committee, Heidgerken and his fellow representatives are looking at the federal No Child Left Behind Act, which requires annual testing for every student. The representative has reservations because adequate funding has not been provided for states to implement the program. The federal government is only providing 17 percent of special education aid, though it should be giving 40 percent, said Heidgerken. These costs are another factor that he hopes to address, since they have been the leading escalator in school funding over the last ten years.
Other matters that interest Heidgerken this session include bipartisan compromise and keeping the bonding bill concentrated only on necessary projects. He plans to vote for conscience and for his district over his party's caucus, he said.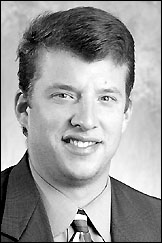 Rep. Larry Hosch
In his first term in the Minnesota House, Rep. Larry Hosch (R-St. Joseph) is enjoying the "hustle and bustle" at the capitol. As a member of the Government Operations and Veterans Affairs Committee, he is quickly learning about "the whole gamut of state services."
Hosch's other committee assignments include the Local Government Committee, where his experience as a former mayor of St. Joseph helps him contribute, and the Rules and Legislative Administration Committee.
A priority in the House is passing a bonding bill, said Hosch, who is working to ensure inclusion of money to complete the trail from Paynesville to Lake Koronis. A $976 million bonding bill has been passed in the Senate that included $365,000 in funding for the trail.
Governor Tim Pawlenty proposed a $744 million bonding package, and Hosch expects the House to pass a bonding bill for a dollar amount slightly lower than the governor's.
With another budget shortfall, protecting education and nursing home funding is a fiscal priority for Hosch. He believes that there needs to be a focus on the reasons for the rapid increases in health care costs and on putting cost-containment measures in place. Concentrating on preventative health care is important to keep future costs minimal, he noted.
Hosch is concerned that the budget proposed by the governor allows for drastic property tax increases at a local level, which he fears may increase the difference between property rich and property poor districts.
These major decisions will require bipartisan agreement, stated Hosch, and he is working for that as he anticipates a productive session.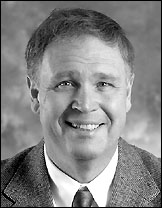 Rep. Dean Urdahl
Agriculture and education concerns are the main interests for Dean Urdahl (R-Grove City) at the capitol this session. The second-term legislator serves on two agricultural committees as well as the Higher Education Finance Committee, where he plans to take positive steps for the college students of his district, which includes all of Meeker County.
We "certainly can't cut any more out of agriculture," Urdahl stated as legislators try to address another projected budget deficit. Only 0.3 percent of the state's budget is committed to agriculture, he noted.
In addition to protecting ag funding, he is working on an investment tax credit for dairy farmers and is optimistic about getting it passed.
With the current $700 million budget deficit always in the background at the capitol, Urdahl is also concentrating on protecting nursing homes and eliminating the freeze on K-12 education spending. Health care finances need to be assessed, he believes, because if current increases continue, tax rates will have to double every eight years to offset health and human services costs.
In the bonding bill, Urdahl is pushing to have funding included for higher education, local state parks, and local road and bridge repair.
Jobs are another key topic for Urdahl, who is working on a job creation bill that he hopes to get included in the House budget plan.
"It won't be an easy session," said Urdahl, but he is looking forward to making it beneficial for both his district and the entire state.
(Editor's Note: Andrie is a 2004 graduate of Paynesville Area High School and a freshman at the University of St. Thomas in St. Paul. She is covering the 2005 legislative session for the Paynesville Press.)
---
Contact the author at editor@paynesvillepress.com • Return to News Menu
Home | Marketplace | Community
---