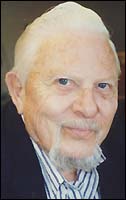 John Bolstad Jr., according to his widow June, was a natural salesman who sold dry goods, groceries, cars, airplanes, stocks, bonds, and real estate during a six-decade business career in Paynesville.

John Bolstad Jr., 86, operated businesses in Paynesville for nearly six decades and served as chairman of the hospital board for 28 years.

He also served as the first chairman of the hospital board, helping guide the Paynesville Area Hospital for 28 years.

Bolstad, 86, died on Tuesday, Jan. 25. A funeral service will be held on Saturday, Feb. 5, at the Johnson Funeral Home in Paynesville with inurnment in the Paynesville Cemetery.

Bolstad was born in New Jersey in April 1918 but was raised in Spicer. He attended Willmar High School, graduating in 1936, and attended Macalester College in St. Paul before earning a degree in mortuary science from the University of Minnesota.

He came to Paynesville and opened a dry goods store on Washburne Avenue in 1942. He met his wife, June, who was a waitress at Tuck's Cafe. They were married in September 1942 and enjoyed 62-plus years of marriage.

In 1946, Bolstad opened a grocery store (now Joel's Jack and Jill), which he sold to Jerry Burr, getting out of the grocery business because of a bad back.

According to June, her husband - also known as Johnnie, Junior, Colonel Sanders, or Papa John - learned to fly, just so he could sell airplanes. Bolstad told the Press in 1985, when he was selected as grand marshal for Town and Country Days, that his wife deserved more credit than he for his business success. "When I sold 87 cars one summer, my wife polished and waxed every one of them," he said. "She still deserves all the credit."

Bolstad eventually started selling stocks and bonds and then real estate. He owned Bolstad Realty in Paynesville for 42 years, selling out in 1997 but continuing to manage several apartment complexes.

While he never used his college education in mortuary science professionally, his medical background did lead to his appointment by the mayor to the original hospital board. The Paynesville Hospital - as it was known then, now called the Paynesville Area Hospital - opened in November 1956.

Bolstad's business background also helped him during his service on the hospital board, then a city-owned facility and now owned by a hospital district.

When he retired from the hospital board in 1985, one of the things that Bolstad told the Press he took pride in was establishing funded depreciation for the hospital. Under this accounting technique, the hospital wrote itself a check for depreciation and built a fund for future capital expenditures. Since opening in 1956, the Paynesville Area Hospital has never levied a tax, relying solely on its profitability to grow and survive. Bolstad was still chairman of the hospital board when it underwent a major ($2.5 million) renovation and expansion project in 1983.

He also was an original board member on the Paynesville Develop-ment Corporation, a group formed in 1959 to bring industry to town. In the 1970s, the Paynesville Develop-ment Corporation built the Industrial Park in Paynesville.

Bolstad's survivors include his wife June; their three children Tom, Laurie, and Cindy; and their six grandchildren.
---
Contact the author at editor@paynesvillepress.com • Return to News Menu
Home | Marketplace | Community
---