For February - I Love To Read Month - the Press asked sixth grade students - and their mother or father - to share what they like to read and their reading habits.

Names:
Joshua and Michelle Andersen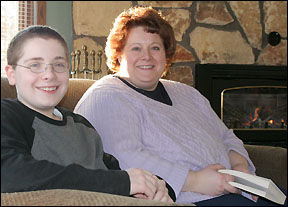 Why do you like to read?
Joshua: Reading gives me something to do. It's fun reading about lots of different things.
Michelle: Reading is an escape and adventure for my mind. It's a chance to explore a totally new location or situation without ever leaving home.
What type of books are best?
Joshua: I like fantasy books like the Harry Potter and Redwall series. The battles between the good and evil characters are really cool.
Michelle: I prefer mysteries and/ or horror fiction if I'm reading for fun. I like books that are totally different from my typical day.
What books do you remember someone reading aloud to you?
Joshua: The Chronicles of Narnia and stories in My First Reader, a collection of fairy tales.
Michelle: Dr. Seuss books, Dick and Jane, and Disney stories such as Snow White, etc.
What is the first book you read completely on your own?
Joshua: The Boxcar Children.
Michelle: Leo, The Late Bloomer and The Boxcar Children.
What is your favorite book?
Joshua: All the Harry Potter books and Redwall books.
Michelle: My favorites range from Stephen King, Dean Koontz, and Tami Hoag to Patricia Cornwell and John Grisham novels.
Who are your favorite authors?
Joshua: Brian Jacques and J.K. Rowling.
Michelle: Patricia Cornwell is my current favorite.
Please give a summary of the last book you have read.
Joshua: Mariel of Redwall by Brian Jacques. A girl mouse named Mariel gets captured by an evil rat who pushes her into the sea. Mariel washes up on shore, and she can't remember who she is. She goes to Redwall and remembers who she is and where she comes from. Along with her dad and friends, she helps lead a war to defeat the evil rat.
Michelle: I tried a new author, Jodi Picoult, recently. Her book, My Sister's Keeper, is a story about a young girl who feels her parents' sole reason for having her was to be a donor for her older sister, who is dying from leukemia. The younger daughter, Anna, sues her parents for the rights over her own body.
Besides books, what else do you like to read?
Joshua: I like reading e-mails from my friends and family.
Michelle: The next corps novel by W.E.B. Griffin.
Where do you find books?
Joshua: The public or school library, but I usually have the books I want to read at my house.
Michelle: I like reading newspapers and magazines. I also enjoy reading creative poetry and short stories my students write at school.
Where is your favorite place to read?
Joshua: In my bedroom is where I read most of the time. No one bothers me there, and I like reading before I go to sleep.
Michelle: I also like to read in my room before going to sleep, but I also like reading beside the crackling fireplace in the winter or outside on a comfortable lawn swing in the summer.
Why is reading important?
Joshua: I think reading helps me get better grades because I know more words and can understand things better.
Michelle: Reading a lot helps develop comprehension, writing, and speaking skills. Reading is exercise for the brain. We all need that! Many tasks are much easier for those who read a lot.
What are your other interests and hobbies?
Joshua: Baseball, videogames, computers, swimming, camping, snowmobiling, piano, and trumpet.
Michelle: Camping, gardening, writing, and spending time with family and friends.
---
Contact the author at editor@paynesvillepress.com • Return to News Menu
Home | Marketplace | Community
---