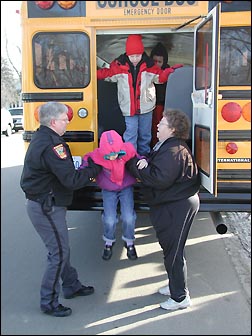 Students who live within two miles of their school building would find themselves without bus transportation next year, if one proposed budget cut is approved.

Minnesota Department of Public Safety officer Tom Smith and Marlene Theel of Paynesville Motor and Transfer help students to the ground during an emergency evacuation drill. Smith provided bus safety training last week for Paynesville Area Elementary students using the KARE-11 TV school bus and video.

The cut is to reduce three bus routes, which would save the district $25,000 next year. But to do so, the proposal includes eliminating bus transportation for students who live within two miles of their respective school building.

One bus route could be eliminated next year due to declining student numbers north of town, Phyllis Nielsen, owner of Paynesville Motor and Transfer, the district's busing contractor, told the school board on Tuesday, Jan. 22.

Eliminating another route might be possible due to further enrollment declines, but to eliminated all three requires having fewer riders still, thus the proposal to limit ridership to students living at least two miles from school, to whom the district must provide transportation, by state mandate.

According to a rough count by Paynesville Motor and Transfer, eliminating busing within two miles of the respective school would affect 233 students, including 181 students at the elementary school.

In some cases, students in the same house would be eligible or ineligible for busing according to their age. Heatherwood, for example, is more than two miles from the middle and high schools, so students in grades 5-12 could ride the bus. But the elementary school is within two miles of Heatherwood, so elementary students would not be eligible to ride the bus, under the proposal.

Parents within two miles of school might contract privately for busing, should this proposed cut be enacted.

Also, if enacted, the schools, especially the elementary school, would have to open earlier and make arrangements to watch students before and after school, in order to enable working parents to drop off their kids and get to their jobs. This program might be offered through Community Education.

The proposal to provide transportation only to students who live two miles from school, though, did not get a warm reception from the school board, either on Jan. 22 or at a special meeting on Monday.

In a counterproposal, board members Deb Glenz and Tami Stanger both suggested freeing space on the bus routes by seeking waivers from parents of kids who already don't ride the school bus, instead of dropping transportation to students who need it. If parents - of high school students who drive themselves or younger students who already get dropped off - would sign a waiver to not use the bus, their seats on the bus would be freed from the route listings and used to pick up more students per bus and consolidate routes, Stanger and Glenz believe.

One problem with that, noted Marlene Theel of Paynesville Motor and Transfer, is that the waivers could be revoked, which would cause the bus routes to be in disarray. The high school parking lot has a lot fewer cars on days after snowstorms, Theel told the board, because some parents want their children to ride the bus to be safe.

Glenz continued to press for looking at the waiver option on Monday night, noting that no attempt has been made to see how many of the high school students who drive to school each day would sign one. "I think we need to do an investigation on just how many parents would be willing to sign the waiver," she said.

If the waiver option doesn't work, Stanger suggested more common-sense boundaries for the bus limits might be needed. Already buses do not pick up middle or high school students in the Chladek Addition, and Stanger proposed more limits like this, rather than strict two-mile limit for bus transportation.

Having students walking on the shoulders of highways to school is a sight no one wants to see, she said.
---
Contact the author at paypress@lkdllink.net • Return to News Menu
Home | Marketplace | Community
---