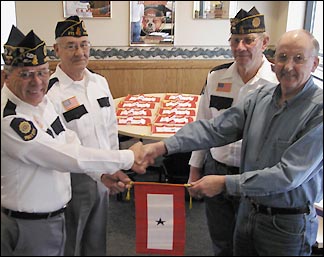 Paynesville American Legion Post #271 gave out its first Blue Star Service Banner to commemorate the men and women serving in the war on terrorism last week.

American Legion Commander Larry Alstead (front left) hands the first Blue Star Banner to Vinal Christopherson (front right), whose son Chad serves in the Air Force. Helping with the distribution were vice commander Bill Drager (back left) and membership chairman Pete Hoppe (back right).

Blue Star Banners started in 1917, during World War I, when an army captain designed the banner in honor of his two sons on the front line. Since then, the banners have become the unofficial symbol for loved ones in the armed forces.

The Department of War started regulating Blue Star Banners during World War II, creating guidelines for when and by whom the banner could be flown. A banner can be seen in the front window of Mrs. Ryan's farmhouse in the World War II movie Saving Private Ryan.

The Blue Star Banners were also used during the Korean and Vietnam wars, though without the enthusiasm shown earlier.

The American Legion rekindled the Blue Star Banner tradition following the terrorist attacks in New York City and Washington, D.C., in September.

The local Legion post approached the public to find families that wanted banners in November. So far, they got 15 requests from local families, as well as a number of requests from out of state that were referred to other Legion chapters.

Legion commander Larry Alstead, along with vice commander Bill Drager and membership chairman Pete Hoppe, distributed the 8- by 16-inch banners last week. "It's our way of showing appreciation that we've got someone from our area involved in the military," said Alstead.

To be eligible for a banner, you must have a family member - son, daughter, brother, sister, wife, husband, father, mother, cousin, or grandchild - actively serving in the armed forces. Servicemen and women do not have to be serving in Afghanistan to be eligible.

The first banner from the local Legion post went to Vinal and Bev Christopherson, whose son, Chad, is a navigator in the Air Force.

Chad has been in the Air Force for nearly 10 years. His latest assignment was flying supply planes from New Zealand to bases in Antarctica. That assignment has ended and he is heading home to Little Rock, Ark., where he will wait for his next assignment.

Christopherson previously flew combat missions during the bombing campaign in Bosnia. Getting the banner, said Vinal, who served in the army himself and is a 30-year member of the American Legion, shows his and his wife's pride for their son's military service.

Current members of the military will be eligible to join the American Legion, added Alstead, joining military personnel from the Gulf War, Panama, and Grenada.

The Legion Post #271 has an all-time high membership this year, but needs more young members. "We need younger people to come into this organization and keep it going," said Alstead.

Vinal Christopherson got the forms to enroll Chad in the Legion last week, too.
---
Contact the author at paypress@lkdllink.net • Return to News Menu
Home | Marketplace | Community
---