More space. More storage. That's what the Paynesville Community Service Center could use.

According to director Donna Toney, the Paynesville Community Service Center has had to refuse donations and give away donations to the Epilepsy Foundation because they simply do not have enough space in their current location, a house on River Street between Paynesville SuperValu and AMPI.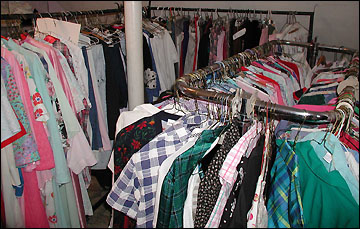 The garage is full, said Toney. And most rooms are packed to the brim as well, making it difficult to have access to the clothes, furniture, and household goods that the center provides to those in need.
Lack of storage space, as shown by this rack of clothes, is the main reason why the Paynesville Community Center needs more room. The Community Service Center is currently located in a renovated house, but the Paynesville Lions are exploring a project either to build or find them new quarters.
Most recently, she had to refuse good furniture because they're simply isn't enough storage space. "We desperately need storage space," said Toney.
But the local foodshelf, a nonprofit organization, could never consider a new building by itself, said Toney, since all its funds and donations go for its general operation.
Last summer, though, Joe Voss approached Toney and said the Lions Club would be interested in helping the Paynesville Community Service Center find a new home.
"I think it's a good project, and it's very workable," said Voss, a Lion.
The club has approached the city of Paynesville to inquire about purchasing a vacant lot, and it has also explored other options, including purchasing an existing building. The club has estimated to build a 3,000 sq. ft. building, with some donations of labor, could cost $80,000 to $90,000. They hope to get grants and donations from other Lions Clubs to help finance the project, according to Steve Whitcomb, another Lions member.
The Paynesville Community Service Center was founded by Ruth Aulick about 35 years ago, said Toney. It originally started in a garage, and has changed locations several times since then. It has been at its present location for at least a decade.
The center does not simply serve a handful of local families. According to Toney, each month the center serves 35-65 families from a total of six communities. "And double that during the holidays," she added.
People are referred to the center or simply walk in on a Wednesday, the only day the center is open. Some people who use the center have left in the middle of the night from an abusive situation with nothing but the clothes on their backs, said Toney. Others find themselves in trouble financially due to medical issues and expenses. Still others may need only to borrow good clothes for a job interview.
"There's more need out there than people realize," said Toney. "Until I took this position myself, I wasn't even aware of it," she admitted.
"A lot of these people are working, but they just can't make it," she added.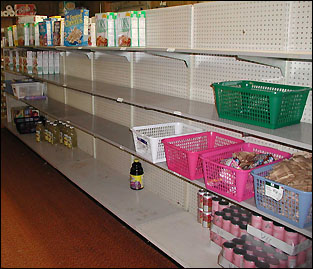 Toney credits the center with giving many people a new lease on life, literally. "Some people have a really tough time for six to eight months," said Toney, "but then they get back on their feet and they never come back."
Empty food shelves plague the Paynesville Community Service Center lately because donations are down and the regional foodshelves also do not have as much food to buy at discount prices. If the center had more space, more food could be stored to stablize the supply.
Ironically, since 9/11, foodshelf donations nationwide have sharply declined, said Toney. This has affected the Paynesville Community Service Center directly (with fewer local donations) and indirectly (since the larger foodshelves where they buy food also are getting less in donations). This means they can no longer buy as much food as they need from their supplier, a food bank called Second Harvest.
In the past, they were able to purchase food from Second Harvest for 14¢ per pound. Now, Toney said, she places orders and they come back only half-filled. Since their money does not go very far buying retail, the result has been bare shelves in the food section, while the rest of the center remains crowded.
"I know lots of small foodshelves that have actually closed their doors," said Toney, who noted that food is still their main service.
Even these bare shelves might be helped if they had more storage, said Toney, who has been the director of the center for three and a half years. If they had more storage space, not on the shelves, they could buy more in advance and save for hard times like these, said Toney. They also could store more for holidays, the busiest times of the year at the center.
Currently, the center has only one locked room for long-term storage, said Toney.
The layout of a house also is not ideal for the center, said Toney, because it has lots of small rooms where items are packed tightly and difficult to access. Having a single, larger room would allow the center to have better supervision while requiring fewer volunteers, she said.
The Paynesville Community Service Center is open every Wednesday. On the first and third Wednesdays of the month, the center is open from 9 a.m. to 1 p.m. On the second, fourth, and fifth Wednesdays of the month, it is open from 4 to 8 p.m.
The center is also open by appointment at other times by calling Toney at 320-243-4953.
---
Contact the author at editor@paynesvillepress.com • Return to News Menu
Home | Marketplace | Community
---