Lizzie Borden retried in mock trial
This article submitted by Linda Stelling on 1/27/98.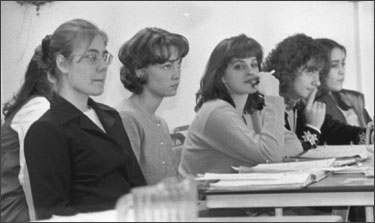 As part of the ďTeen LawĒ course at the Paynesville Area High School, students must plan the defense and offense of a court case and conduct a mock trial.
The students in Jeff Youngs class last week held their mock trial at the Paynesville Area Senior Center.

They retried Lizzie Borden. ďThe students kept all the essential elements the same as the original trial, but added modern detective techniques,Ē Youngs said.

Attorneys for the defense, pictured, were Leah Bertram, Michelle Lahr, Tracey Stang and DeAnn Neuroth. An advisor for the defense was attorney Ross Amundson.

Acting as the prosecutionís attorneys were Anne Nelson, Nikki Hemmesch and Sara Spanier and helping advise the state prosecutors plan their case was attorney Nancy Landmark.

Serving as the jury were: Walt and Rosemary Dilley, Joyce Spaulding, Marie Lauer, Conrad Patsch, Jim McCalmant and John Atwood.

ďEven after all these years, the court was still not able to find Lizzie Borden guilty. The jury presented a unanimous verdict of ďnot guilty,Ē Youngs said.

Youngs served as the court judge for the mock trial.
---