Johnson. Lahr named AAA winners
This article submitted by Linda Stelling on 1/27/98.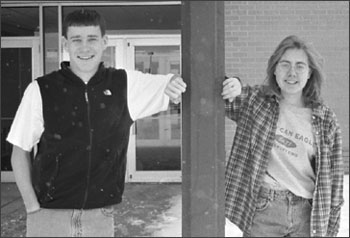 Paynesville Area High School has named Daniel Johnson and Michele Lahr as their nominees for the Section 5 AAA Award competition.

Johnson and Lahr will represent Paynesville in this yearly competition. Purpose of this award is to recognize and honor high school seniors who have excelled in the classroom, on the athletic field, and in a fine arts activity such as theatre, speech or music.

To be eligible, nominees must be high school seniors, have a grade point average of 3.0 or higher, have participated in a league sponsored athletic program and fine arts activity. They also must comply with the Minnesota State High School Leagueís student code of conduct.

Johnson, the son of Dick and Carol Johnson, Paynesville, was nominated for his outstanding school work, participation and achievement in cross country and track, as well as his involvement in music and drama. Johnson also sings for On Call, is a member of the National Honor Society, participates in Target Leadership and is active in his church and does community service.

Lahr is the daughter of Luann Quaal of Underwood and Richard Lahr, Paynesville. She was nominated because of her outstanding course work, participation in softball and band. Lahr is also a member of the National Honor Society, German club, Peer Helpers, Peer Tutors, Target Leadership, Student Advisory Council, and served on the 1997 prom committee, in addition to being a Bible school teacher for her church.

ďAs you can see, we are proud to nominate these two students to represent our school in the AAA Award competition,Ē Steve Brisendine, activities director, said.

---