Paynesville holds its first speech meet in three years
This article submitted by Jane Leitzman on 1/26/99.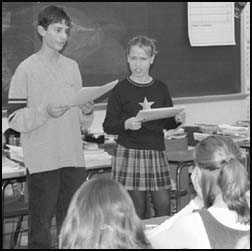 Paynesville hosted its first middle school/junior high speech meet in three years on Thursday, Jan. 21. Fortunately, rumored bad weather never materialized and all ten guest schools (Glencoe-Silver Lake, Holdingford, Litchfield, Melrose, Rocori, Royalton, St. Cloud North, St. Cloud South, Sartell, and Willmar) were able to get to Paynesville.

Middle school/junior meets are set up in two noncompetitive rounds. Event judges donít have to rank participants until they compete at the high school level.

This yearís Paynesville Area Middle School students are competing in two areas, duet acting and humorous prose. Working on duet acting pieces this season are Kayla Rooney and Trista Bork; Ranea Eastling and Rachel Wendlandt; Tricia Salzl and Brittany Caldwell; Maureen Flanders and Erin Moser; Peter Schreifels and Sami Tierney; Ashley Spanier and Chelsea Leukam; Amanda Kern and Laura Hoyme; and Laura Buermann and Brittany Stang. Honing their skills on individual humorous prose pieces are Matt Mehr, Amber Chevalier, Samantha Moser, Maggie McCarron, and Valerie Callenius.

The Paynesville students participated in only one other meet before playing host to 10 other schools. The previous Thursday they attended a meet in Cold Spring. They were among only three schools at that meet, oweing to the very early date. Many of the students are in speech for the first time this year and they did very well. All of them earned at least one A rating and many of them earned two.

The middle school students are working hard and looking forward to going to their remaining scheduled meets-Litchfield, Silver Lake, Dassel-Cokato, Willmar, and North Junior High, St. Cloud. At the end of their season, theyíll have a chance to observe senior high competitors at a high school meet in Willmar.
---