Soup, sandwich and song held Saturday night
This article submitted by Michael Jacobson on 1/26/99.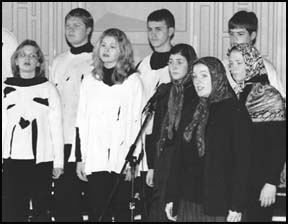 Almost 300 people turned out Saturday for the school choirís 1999 Soup, Sandwich, and Song performance.

Dinner was provided in the high school cafeteria starting at 6 p.m.

Soloists and ensembles performed in the gymnasium from 6:15 p.m. to 7:30 p.m. Performing were Heather Roos, Andrew Jones, Erica Fox, Scott Ingalsbe, Mackenzie Merrill, Hannah Philabaum, Rachel Miller, Ryan Lang, Amber Ingalsbe, Josh Ryan, Alison Thompson, April Willemson and Andrea Roeser, Becky Gardner, Janel Meyer and Ed Gardner, and Lauren Vork.

The high school pops choir performed a medley from the musical, Les Miserables, the middle school pops choir performed I Love Ragtime, and the high school choir presented a series of songs by the great American composer, Irving Berlin.

Choir director Cheryl Bungum said the choirs had started to rehearse the music in September. They took a two-month break to learn Christmas music and then started on these songs again after Christmas. ďI was very happy with how it went and the turnout,Ē said Bungum.

Almost every song included acting, dancing, or costumes. ďThe students came up with ideas,Ē said Bungum, ďand we refined them as a group.Ē

The performance is a fund raiser for the high school choir, which plans to attend the Blue Water Music Festival in Spirit Lake, Iowa, on May 22 and 23.
---