Sophomores take composition part of grad standards
This article submitted by Linda Stelling on 1/26/99.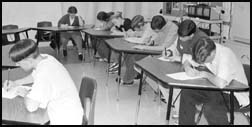 About 63,000 tenth graders across Minnesota were deep in thought last Wednesday, Jan. 20. That was the day they were required to take the final basic-skills test: written composition.

Letters were sent home to parents advising them to have their students get a good nightís rest and to come to school prepared for the testing.

In order to graduate in the year 2001, tenth graders (109 Paynesville students) must pass this test under the new rules established by the Graduation Standards of Minnesota.

In order to pass the test, students must write a clear message in English for an adult reader. The students were asked to write about someone who has influenced their lives.

Successful compositions must have:
ēA clearly stated message
ēSupporting ideas related to the message
ēA clear connection among ideas
ēA logical beginning, middle, and end
ēCorrect use of grammar, spelling, and punctuation

Each composition will be scored independently by trained raters who assign a one to four rating on each paper.

The scoring criteria includes the following five characteristics:
1) clarity of central idea;
2) coherent focus;
3) organization;
4) detailed support or elaboration of ideas; and
5) language conventions.

A student must score at least a three to pass the test.

Students will be allowed to retake the test next year if they do not pass and once each year thereafter through the 12th grade.

Results will be sent to the school district before the end of the school year.

ďThe tenth graders were given mock composition tests prior to last Wednesday,Ē Danith Clausen, PHS curriculum coordinator, said.

ďThe ninth grade language arts teachers, Deb Ficek and Michelle Anderson, worked with the students last year. They concentrated on having the students apply their writing skills to assignments. This year Amy Flanders, tenth grade language arts instructor, had the students brush up on their skills prior to the testing date,Ē Clausen said.

The students were divided into five classrooms, some in smaller groups where there would be less distractions. ďWe tried to accommodate the students as much as possible, making the testing as easy as possible,Ē she added. The students were given three hours to complete the written composition test.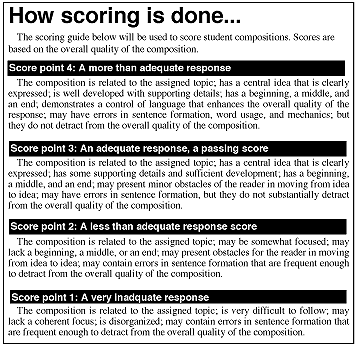 ďWe can use this yearís question for the students to practice with next year,Ē Clausen said. This yearís test question was: Your teacher has asked you to write about one person who has made a difference in your life. Name that person and give specific reasons why that person has made a difference in your life. Give enough details so your teacher will understand your ideas.
ďTesters will take into consideration that the students did not have dictionaries or a thesaurus at their disposal,Ē she added.
Some teachers in the state say the move toward more writing-by-the-rules has been in the works for years, since educators began to realize that the focus on creativity wasnít helping students. Basic skills are being stressed: math, reading, and now writing.
The math and reading basic skills tests have been in place since 1996.
ďWe didnít want to load up the system with too many tests in the eighth grade,Ē Cathy Wagner, director of statewide testing for the Department of Children, Families, and Learning, said.
The math and reading tests include multiple-choice questions and short-answer questions. The writing test consisted of only one essay question.
Basic skills testing
On Feb. 2 and 4, the Paynesville eighth graders will be taking the math and reading basic skills tests required for graduation.
Students need a passing score of 75 percent of the answers correct. ďThe state continues to offer an option test date for those who donít pass in February,Ē Clausen said.
Besides the eighth graders, students who have not passed the test in the past will also be taking the two exams.
---