Cub Scouts race Pinewood cars at derby
This article submitted by Michael Jacobson on 1/26/99.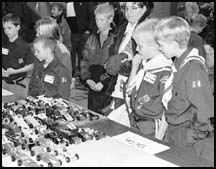 More than 50 Cub Scouts raced their homemade cars in the annual Pinewood Derby yesterday afternoon at the Paynesville Area Elementary School.

Around 150 spectators watched the three-hour event and in the end a pair of brothers walked off with two of the three top awards.

Jared Eickhoff defeated Nathan Friederichs in the final to claim first place, and his brother Lee Eickhoff defeated Ted Hoffman in a runoff for third place.

Brutger Mrozek won the best design prize.

State trooper Sean Meagher served as the official starter.

The event drew 51 contestants from seven Cub Scout dens. After regis-tration--which included weighing (cars can weigh a maximum of five ounces), drilling (if necessary to remove weight), and applying graphite to the wheels--the cars were split into 17 heats of three cars. The cars ran three races against their heat and the car with the highest placings advanced to the second flight.

In flight two, the 17 first-round winners were matched again in heats of three cars, and only six cars advanced to round three: Jared Eickhoff, Lee Eickhoff, Bryce Fischbach, Nathan Friederichs, Ted Hoffman, and Michael Vaske.

The top three were: Jared Eickhoff, first; Nathan Friederichs, second; and Lee Eickhoff, third.

The top two cars qualified to race at the Scenic District Pinewood Derby in St. Cloud on March 24 at Crossroads Shopping Center.
---