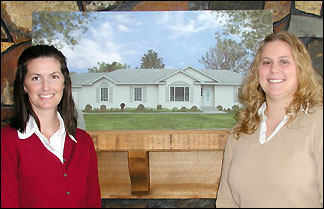 Traci Mara and Stacy Wuertz are new co-owners of Cyrilla Beach Homes in Paynesville Township.

Mara and Wuertz will act as general managers and sales consultants at Cyrilla Beach, while a third partner will remain silent.

Traci Mara (left) and Stacy Wuertz (right) are new co-owners of Cyrilla Beach Homes in Paynesville Township.

Cyrilla Beach Homes offers a full line of sales and service for modular and mobile homes. The company specializes in full packages (home, foundation, garage, etc.) and carries Schultz and Northstar homes, both of which are built in Minnesota. They serve central Minnesota and beyond, said Mara. In fact, Cyrilla Beach Homes has delivered homes to destinations as far away as Duluth and Wisconsin, she added.

With new ownership came a change in hours. The new winter hours are from 8 a.m. to 5 p.m. on Mondays through Fridays and from 9 a.m. to 3 p.m. on Saturdays. Mara and Wuertz are also available by appointment.

Also, 12 new model homes will soon be arriving at the business, located on Highway 55 east in Paynesville Township, and the new owners have planned an open house for the week of April 21-24.

Mara, a 1993 PAHS graduate, also holds a real estate license and previously worked at Cyrilla Beach from 1993 to 2001, becoming the office manager. She returned to Paynesville after living and working in Wisconsin for two years.

Wuertz, a 1996 PAHS graduate, has been at Cyrilla Beach Homes as a sales person since 2001.

Because each of the women had experience in the industry, they jumped at the chance to become co-owners when the opportunity arose, said Wuertz. Their biggest challenge now will be getting everything organized and pointing the business in the direction they want, they agreed.

Traci and her husband Bryan live in Paynesville with their baby daughter Kessa. She enjoys playing volleyball, golfing and camping with Bryan, and scrapbooking. She especially likes working at Cyrilla Beach because she enjoys working with people, she said.

Wuertz also lives in Paynesville. She likes to fish and play volleyball in her spare time. She loves working with people, and she enjoys working with the homes, she said.
---
Contact the author at editor@paynesvillepress.com • Return to News Menu
Home | Marketplace | Community
---