If you thought the recent sub-zero weather was cold, imagine that you stepped off a plane from a beautiful Australian summer into this frigid Minnesota winter.

That's what 15-year-old Angela Lindrea did on Wednesday, Jan. 12, ending her summer vacation in Geelong, Australia, early to come to Paynesville and stay with Michelle Bruntlett and her daughter Amanda, a senior at PAHS.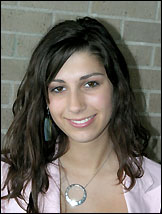 While Angela - who just finished her ninth grade year in Australia and is taking classes with the sophomores at PAHS - reported feeling very welcome in Paynesville, including starting to make friends at PAHS, the cold weather was "not good," she said. "Australia's winter is not that cold. It's not cold compared to here," she explained.
Angela Lindrea, 15, is a new foreign exchange student at Paynesville Area High School. She comes from Australia and is staying with Michelle and Amanda Bruntlett in Paynesville.
Because Australia is located in the southern hemisphere, their seasons are opposite Minnesota's. Their summer runs from December to February; their winter is from June to August.
A cold winter day in Geelong is 12 degrees Celsius, according to Lindrea, or about 50 degrees Fahrenheit. In the summer, temperatures in Geelong can reach 40 degrees Celsius, or 100 degrees Fahrenheit.
"Oh my God, I was cold," Lindrea said. She did not have enough warm clothes, either, she reported. Partly because they don't sell clothes warm enough for a Minnesota winter in Australia and partly because it was summer when she left Australia, so stores were selling summer, not winter, wear.
The bitter cold, however, did not dampen Lindrea's longing for the beach. When she learned that she was going to Minnesota through STS, a foreign exchange organization, and that there were no beaches, her jaw dropped, she said.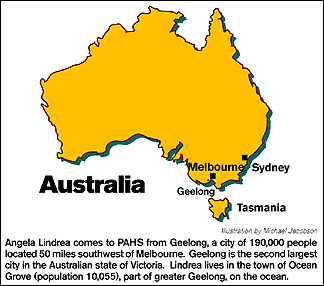 In Australia, Lindrea lives a couple-minutes walk from the ocean, and she surfs almost daily. Though still dark by Minnesota standards, Lindrea thinks she's already losing her tan. Another adjustment for Lindrea in coming to Paynesville was adjusting to a small town. She lives in a small seaside town in Australia, but Ocean Grove has a population of 10,055. And it is part of greater Geelong (population 190,000), which is the second largest city in the state of Victoria. Geelong is located about 50 miles southwest of Melbourne (population 3.19 million), the second largest Aussie city after Sydney.
Lindrea's private school in Geelong has 200 students per grade, being about twice as large as PAHS, where class sizes are about 100.
Lindrea wrote a school paper about the United States in the seventh grade, which fostered her interested in being a foreign exchange student and visiting America. "My mum has told me ever since then I wanted to go to the United States," said Lindrea.
Her family has also hosted foreign exchange students from Japan (for two weeks) and from Brazil (for six months), furthering her interest in studying abroad.
Lindrea is an only child. Her mother is a school teacher, and her father owns a transportation company. She likes to surf and to dance (jazz, tap, ballet, etc.), and to shop.
Lindrea hopes to come back to the United States to attend college, but she thinks she might choose a warmer climate than Minnesota, and someplace with surfing.
Students at PAHS have been very interested in Australia, she said, bombarding her with questions like what it's like, what they do, what they eat, etc. "I've repeated myself so many times," said Lindrea, "but it's good that they are interested."
Students have been especially obsessed with learning if media stereotypes like the crocodile hunter are true (they are not, she said), with asking if she lives in the outback (she does not), and with her Australian accent. "At home, I sound normal," she said with her Aussie lilt. "All you guys sound like you have accents to me."
Still, learning to talk Minnesotan is one of her goals for her stay in Paynesville. "Some of my friends are like, 'You can't come back until you have (a Minnesota accent),' " she said.
She also wants to learn about winter sports, and already tried snowmobiling. She also plans to go ice skating, skiing, and snow boarding, which she thinks might be a lot like surfing. And, because she loves to shop, the Bruntletts plan to take her to the Mall of America.
---
Contact the author at editor@paynesvillepress.com • Return to News Menu
Home | Marketplace | Community
---