Township considers using "rustic road" designation
This article submitted by Michael Jacobson on 1/26/00.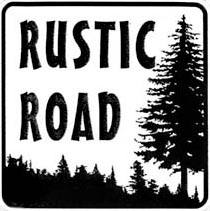 Paynesville Township is planning on designating some of the township roads as "rustic roads."

The Legislature created the desig-nation back in 1991, but little was done until 1996, when the Legislature added some liability protections that made the designation more appealing to township governments.

According to state statutes, a rustic road cannot be in the state-aid system and must have: outstanding natural features or scenic beauty; an average daily traffic volume of less than 150 vehicles per day; year-round use as a local access road; and a maximum speed of 45 miles per hour.

So far, the town board has considered at least ten roads for the distinction. Most of the roads on the preliminary lists are around Lake Koronis, according to Johnnie Olson, township board chairman.

Once a road is designated as a rustic road, the town board may control the type of vehicles that use it and may designate a portion of the road for pedestrian use, according to state statutes.

Such a designation might prove particularly useful in the Lake Koronis Trail Project, which would be a pedes-trian trail that circles Lake Koronis. The township has negotiated with Stearns County on acquiring County Road 124 and building the first segment of the trail when that road is rebuilt. A finalized agreement is still in the works.

The rustic road statutes give the town board the authority to construct dividers to physically separate pedestrian traffic from vehicular traffic.

The Paynesville Township Board has not made a final decision on which roads to designate, although they have some ideas. The board will probably have an informational meeting next spring, according to Olson, to answer questions from the public and entertain suggestions.

Any road designated as a rustic road would be marked on both ends with signs. The township has already placed an order for a number of signs, which will have a white background, a green tree, and brown lettering.
---