Pep band displays school spirit at sporting events
This article submitted by Erin Aagesen on 1/26/00.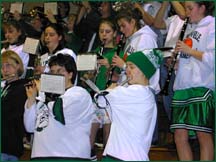 When attending a PHS sporting event, it is likely that you will not only be entertained by the sport you are watching, but by the pep band as well. About 25 times a year, the band, which is well-known around the area, performs at various events.

These include volleyball, football, boys and girls basketball, and boys and girls hockey games. All concert band members are automatically members of the pep band and required to play at the prescheduled events.

Jana Zumwalde, an alto saxophone player, said, "I like pep band because it allows me to be part of the action, and I always have lots of fun."

Jim Mehr, a tuba player, said, "It's fun because you get to scream and yell, especially when you're a tuba player."

Band director Bryan Mara enjoys having his students participate in pep band as well.

He implemented theme nights in 1995, his first year as director. His main reason for doing so was to get his students excited about pep band, instead of them seeing it as a drudgery.

"What I've found is that a lot of times students get excited to come and show what they've come up with for the theme," explained Mara. "It seems like people's enthusiasm for what they're wearing transfers over to the game and to their school spirit. I want the band to be the leaders of school spirit."

Past themes have included: school spirit, blaze orange, sunglasses and hats, all black, summer wear, tinfoil, superhero, Christmas, Halloween, band jerseys, and crazy night. Also done was a rainbow theme, where each section of the band dressed in a different color.

With the themes, band members have invented other ways to make their performances more fun and entertaining. Individual sections have invented horn moves to frequently played songs. The group does cheers and dances to certain numbers.

"We also try to do a variety of musical styles," said Mara. "No matter what type of music you like, you're likely to hear the band play it." The tunes come from a variety of musical styles, including rock, swing, polkas, heavy metal, jazz, country, and holiday and movie themes.

Senior Anne Janotta posed as a present around Christmas this year, playing her trumpet in a wrapped refrigerator box. She said, "My favorite pep band memory was when we tricked Mr. Mara. He told us to play 'Louie, Louie,' but all of us had arranged ahead of time to play 'The Final Countdown' when he said that, because he never let us play it. When we started playing, the look on his face was hilarious."
---