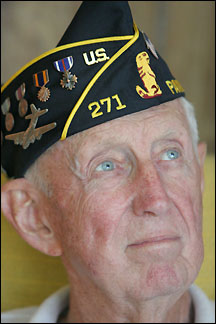 In August 1944, ships stretched out to sea, seemingly to the horizon, as Allied troops landed in southern France. Lt. Bill Schultz's job during the landings by Toulon was to bomb the gun emplacements with his B-17 Flying Fortress.

Bill Schultz, who has had a summer home on Rice Lake for 48 years, flew 35 bombing missions in Europe in 1944 and 1945 during WWII.

"That's where I encountered by first flak," said Schultz, who has owned a summer home on Rice Lake for 48 years, "and saw my first B-17 go down in flames with the men bailing out. It was my baptism of fire."

That mission was the first of 35 for Schultz in Europe during the later stages of World War II. He spent nine months stationed in Italy - from the summer of 1944 to the spring of 1945 - completing bombing runs to France and Germany to Greece and Eastern Europe. During that time, he rose from the rank of lieutenant to captain.

Schultz considers himself fortunate to have survived, as did his entire 10-man B-17 crew.

The average number of missions by a bomber pilot was only 11, said Schultz. Such were the dangers involved in venturing deep into enemy territory, dropping bombs, and trying to get back to base safely. By the time Schultz reached the war, pilots needed to complete 35 bombing missions before rotating back to the United States. (The number had been 30 but was raised to 35.)

That first mission, helping the Allies invade southern France, was one of the most memorable for Schultz during WWII. Others were: making the first night bombing raid on Munich in October 1944; pulling his B-17 out of a 9,000-ft. spin over the Alps in December 1944 after losing vacuum pressure in two engines; and making it home safely, albeit late, after losing two engines during a bombing run to Vienna in February 1945.

Of the 12 planes that flew to Germany during that first night mission (for the U.S. Army Air Force in the Mediterranean Theater) in October 1944, only two bombers made it to the target and back to Italy again. The terrible weather (heavy clouds) made crossing the Alps both ways very dangerous. "We almost touched a valley," said Schultz. And the anti-aircraft fire (flak) around Munich was intense.

After dropping its 12 bombs - six on delayed fuses to demoralize the enemy - Schultz and crew had to take severe evasive action. "That old B-17 was creaking from the strain of doing over 200 mph during the evasive dives," Schultz wrote in a history of the 419th Bomb Squadron.

Schultz grew up in Minneapolis with the urge to fly. He remembers hearing planes as a youngster in Minneapolis: "The sound of them right there told me I wanted to fly."

He enlisted in the Army in 1942 and spent 18 months in training, which took him from California, to Texas, and to New Mexico.

He earned his pilot rating in October 1943 and had his crew assembled in Florida in January 1944, when he was assigned to the 301st Bomber Group, 419th Bomb Squadron.

They were sent overseas in the summer of 1944. In those days, of course, planes had much shorter ranges than nowadays. The B-17 could carry enough fuel to fly about eight hours. This meant flying to Newfoundland - where they had to wait ten days because the weather over the Atlantic Ocean was so bad - and then to the Azores Islands, which was scary to have to find, or run out of fuel, he recalled.

His squadron arrived at Foggia Air Fields in Italy in August 1944.

Schultz flew his first mission in mid-August and had earned his first Distinguished Flying Cross by the end of the month.

From Italy, his squadron could reach Berlin (8.5 hours); Blechhammer, Poland (8 hours); Prague, Czechoslovakia (8 hours); Greece (8 hours); the Ploesti Oil Fields in Rumania (8 hours); Vienna (7.5 hours); and Munich (7 hours). Their targets were railroads and depots; oil fields and refineries; communications; and air fields, he said. The pilots and crews knew about the Holocaust, said Schultz, so understood the importance of missions against the German transportation network.

Being a bomber pilot involved hours of cold drudgery followed by harrowing minutes around the target. Routinely flying at altitudes of 20,000 feet or more, the cockpit was cold, and Schultz wore a heated flying suit and had wires in his boots to help warm his feet. They ate cold cheese sandwiches and drank milk (when it wasn't frozen).

The bomber squadron would be escorted by groups of fighters once entering enemy territory: P-51s for penetration, P47s for cover, and P-38s for withdrawal, said Schultz.

A bomber was most vulnerable when dropping its bombs as it needed to stay steady and over the intended target for accuracy. That took only 15 minutes, but "it seemed like two hours and 15 minutes," said Schultz, "because it was so intense."

One time, enemy fighters shot down 11 of 28 American bombers trying to make a bombing run with Schultz. "That's 110 men in one shot," he said. "That's how bad it was." During that enemy barrage, "All I could see was fire," he added.

(A B-17 had a ten-man crew: pilot, co-pilot, navigator, bombardier, five gunners, and a radioman (who also operated a gun when needed).)

At other times, the anti-aircraft fire was so thick over the target that you "feel like you could walk on the flak," he said.

Then, the way home was more dangerous than entering enemy air space. By then, the Germans knew where the bombers had been and could send planes to intercept.

"I always kept in mind where the clouds were, so I could fly into the clouds if I saw a German plane," Schultz explained.

A typical day when flying a mission was up at 3:30 a.m., eat a big breakfast, take off at 5:30 a.m., reach their target around 9:30 or 10 a.m., get back to base around 2 p.m., and then have dinner and go to bed.

Of course in nine months overseas, Schultz flew only 35 missions, so they only made bombing flights one day a week or so. The rest of the time they lived in tents in Italy.

Schultz, who grew up in the same neighborhood in Minneapolis as his wife Irene, could count on letters from her, since she wrote everyday that he was overseas. They now have two children, four grandchildren, and three great-grandchildren.

Schultz attained the rank of captain in February 1945. Among his medals are the Distinguished Flying Cross, four air medals, seven battle stars, and two Purple Hearts.

During every mission, Schultz said, his B-17 would get hit by enemy gunfire, and he just hoped that it would keep flying and that he would not need his chest parachute. Ironically, his last mission, in March 1945, was the only one in which his B-17 did not take enemy fire. "I thought we were going to get hit, but it's the only time I came back unhit," he said.

After returning from Europe, Schultz did some pilot training and worked stateside until being discharged in December 1946.

He wanted to become a commercial pilot but found that there were lots of available pilots after the war, so he went to the University of Minnesota instead, earning a degree in mechanical engineering. He spent 37 years as the director of construction for Woolworths until retiring in 1986.

(Schultz did keep flying during five years in the reserves. He flew 15 types of planes in all, he said.)

Bill and Irene Schultz still summer on Rice Lake and winter in Florida. He belongs to the American Legion and the Masons in Paynesville and started the harmonica band.
---
Contact the author at editor@paynesvillepress.com • Return to News Menu
Home | Marketplace | Community
---