Students of the Month named for January
This article submitted by Linda Stelling on 1/24/01.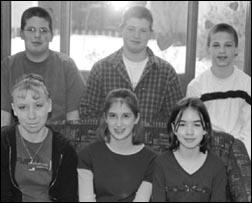 Students of the Month for January were announced at the Paynesville Area Middle School last week.

Pictured at right: (front) Ranea Eastling, Kelly Herzberg, and Mari Buttweiler; (back) Jeremy Lieser, Chad Vossen, and Randy Leyendecker.

The students are selected by the teachers on how well they get along with others in the classroom and their overall performance.

Students selected were: sixth graders Randy Leyendecker and Mari Buttweiler; seventh graders Kelly Herzberg and Chad Vossen; and eighth graders Ranea Eastling and Jeremy Lieser.

Mari Buttweiler is the daughter of Margaret and Bryan Buttweiler. According to Mari's teachers, she is a dedicated student, a hard worker, and friendly. She is considerate of others and has a pleasant attitude.

Mari participates in basketball, band, and choir. Her interests include sailing, biking, math, and collecting koalas.

She felt honored and surprised to be selected as a Student of the Month. When asked why she won, she answered, "because I work hard."

Randy Leyendecker is the son of Bruce and Brenda Leyendecker. Randy is a considerate student, hard working, and has a positive attitude. They add he is a nice addition to the middle school, according to his teachers.

Randy plays basketball and football. His interests are sports and the Internet.

"I'm happy and proud that the teachers would choose me to be Student of the Month," he said. "I try hard in school and help others."

Kelly Herzberg is the daughter of Gary and Marilyn Herzberg. Kelly's teachers state she has a positive attitude, is well liked, and is a hard worker. She is a good all-around student.

Kelly competes in seventh grade volleyball and track, and sings in the choir. Her interests are stamping cards, playing on the computer, playing volleyball, and spending time with friends.

She felt honored to be selected. "I do good in school and hand in all of my work," she said.

Chad Vossen is the son of Louis and Marietta Vossen. His teachers state Chad is a good student, polite, thoughtful, hard working, and friendly.

Chad played seventh grade football. His interest is farming.

"I was happy and proud," said Chad on his selection as Student of the Month. "I'm well-behaved," he added.

Ranea Eastling is the daughter of Tim and Paula Powers. Ranea's teachers state she is friendly, hard working, and a dedicated student. She has a positive attitude about school.

Ranea sings in the choir and is a member of the eighth grade basketball and track teams.

Her interests include taking pictures, playing sports, and going to parties.

"I was surprised when selected because I didn't think I would ever be eligible to win this award," she said. "I haven't gotten into trouble this year. I got my act together."

Jeremy Lieser is the son of Harvey and Marilyn Lieser. He is a quiet student, hard working, and polite, state his teachers.

His likes trap shooting and welding.

"I was surprised to be selected," Jeremy said. "I have been working hard in class," he added.
---