Lemke joins R.O.S.E. staff
This article submitted by Linda Stelling on 1/24/01.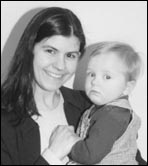 The volunteer coordinator at the RO.S.E Center, Ann Lemke's (pictured with her son George ) job is to connect volunteers to senior citizens with needs.

"I feel lucky to be working with a program that helps people," Lemke said. "The job is fun and rewarding when you can help people who need it," she added.

Some people need help to go shopping or to doctor appointments. Others need help cleaning their homes, preparing meals, doing home or yard maintenance, to running errands or just enjoying a friendly visit.

"Our toughest challenge is finding someone to help care for those who have recently come home from the hospital," Lemke said.

The center currently has about two dozen volunteers. "We are always looking for more volunteers, especially for house cleaning," Lemke said. Anyone interested in volunteering can call 320-243-5144. Lemke urged people to leave a message if no one answers the phone. The messages are picked up daily.

All the services through R.O.S.E. Center are free to senior citizens. The program is funded through grants and charitable donations.

Lemke and her 14-month-old son, George, are at the Paynesville Area Center twice a week, on Tuesday and Wednesday mornings. While working, Lemke has found a lot of grandmothers who are willing to watch her son.

Ann and her husband, Todd, live west of Watkins. Her interests include sewing, cross country skiing, and being a mom.
---