Ingalsbe to receive Eagle Scout award
This article submitted by Michael Jacobson on 1/24/01.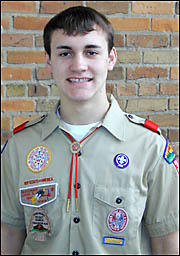 Scott Ingalsbe has joined the ranks of Neil Armstrong, Jim Lovell, and Steven Spielberg.

Ingalsbe isn't an astronaut or an award-winning movie director, at least not yet, but he has joined that famous trio in the ranks of the Eagle Scouts.

Ingalsbe, a senior at Paynesville Area High School, completed the require-ments last fall. He will be honored with the award at a Court of Honor at Paynesville Lutheran Church on Saturday, Jan. 27, at 2 p.m.

On the verge of his award, Ingalsbe is reading a book about other Eagle Scouts, including Armstrong, Lovell, and Spielberg. Ingalsbe becomes the tenth Eagle Scout in Paynesville in the past ten years, and the first since Steve Gilk in 1999. (Jon Millner has also qualified to be an Eagle Scout, but his Court of Honor is not set yet.)

Scott - the son of Dave and Barb Ingalsbe - started in scouting in first grade with Tiger Cub Scouts. He advanced through the Cub Scout ranks while growing up in Hastings, Minn. His mother was one of his den leaders.

The Ingalsbe family moved to Paynesville in 1994, when Scott was starting sixth grade and ready to move to Boy Scouts. During his time in the local troop, Scott has had four leaders: Tom Scheierl, Leo Louis, Mike Klein, and James Gilk.

He has attended summer camp virtually every summer, most frequently in northern Minnesota though he went to camp a few times along the St. Croix River. He also has gone to summer camp in the Black Hills of South Dakota, spent ten days backpacking at a scout ranch in New Mexico, and attended the 1997 Boy Scout Jamboree in Virginia.

Scott said the backpacking trip to New Mexico and the national jamboree were the highlights of his scouting career. After that, said Scott, "I was really excited about staying in scouting and earning the Eagle award." To become an Eagle Scout, Scott earned 30 merit badges (21 are necessary, of which 11 are required). Scott said he finished some badges in a matter of hours while others took a couple of months.

All the summer camps he attended helped in the fulfilling of the merit badge requirements. Scott could complete five merit badges in a week of camp.

In addition to that, and the twice monthly meetings of the local scouts, Scott also was a member of the Order of the Arrow. This group of scouts goes to a scout camp and does cleanup and repair work for it.

He has also served as assistant senior patrol leader and senior patrol leader, elected positions in the local organization that are leadership requirements for Eagle Scouts.

Scott started planning his Eagle Scout project last winter. For the project, he organized the construction of a bell stand and some cleanup at the Paynesville Area Museum.

Scott had steel cut at Louis Industries, welded at the high school, and placed in a cement footing by the old schoolhouse at the museum to house the bell from the old Methodist Church.

Then he organized a Saturday morning cleanup of an area behind the museum where scrap metal and wood were stored. Using a dumpster donated by West Central Sanitation, a group of scouts cleaned up the area.

"The main focus of the project is not to do all the work yourself," explained Ingalsbe, "but to get others involved."

"My job was to keep all the different aspects of the project moving ahead," he added.

Work started last spring on the building and cleanup and finished by the end of summer. Then Scott had to send his Eagle Scout application to the Central Minnesota Council in St. Cloud. He enjoyed the interview required to approve his Eagle Scout award.

Since the completion of his Eagle Scout award, Scott has turned 18, which ended his scouting days. He may become an adult leader some day. "Encourage your kids to stick with scouting and get the most out of it," Scott urged.

He thanked his parents and family for being very supportive of his scouting career. His younger brother, Adam, is a ninth grader and a Life Scout.
---