Fifth graders complete drug awareness program
This article submitted by Michael Jacobson on 1/24/01.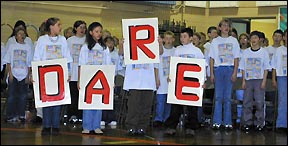 To prepare themselves to face a world of temptation, Paynesville's fifth graders take a 17-week course in drug awareness each year.

The Drug Abuse Resistance Education (D.A.R.E.) program held its culmination ceremony for 95 students this year on Tuesday, Jan. 16. The course is taught by Stearns County Sheriff's Deputy Tim Kantos, who acted as the master of ceremony on Tuesday evening.

Kantos stressed that D.A.R.E. is not a cure-all, not even a promise to keep kids from using drugs. It's the goal, he said, but it needs reinforcement from parents, family, and friends.

"To expect one semester of drug education to keep your kids off drugs," said Kantos. "It's ridiculous."

He likened it to expecting your kids to never get a speeding ticket after completing driver's training.

"We have to be realistic. Some will use drugs; others won't," he said.

Statistics back up Kantos, showing an increase in drug (tobacco, alcohol, etc.) use as students age.

According to the latest Minnesota Student Survey - given to sixth, ninth, and 12th graders in 1998 - one in 50 sixth graders smokes daily, one in seven ninth graders does, and one in four seniors does.

A half of the ninth graders had tried alcohol, and a quarter had drank more than 10 times. For the seniors, seven out of 10 girls had tried alcohol and a third had drank more than ten times. For the senior boys, four out of five had tried alcohol and a third had drank more than 40 times. Half of the senior boys had driven after using a drug.

A sixth of the freshman boys had tried marijuana in 1998, and a quarter of the senior boys had.

None of these statistics were given at the culmination, but Lieutenant Dave Nohner, who does investigations for the Stearns County Sheriff's Department, said that more than half the people he arrests are either under the influence when committing a crime or trying to get money through crime for drugs.

The D.A.R.E. program costs $28 per student. "I think that's a real reasonable cost, and I think your students are worth it," said Kantos.

The program covers drug use and misuse, the consequences of drug use, resisting peer pressure, building self-esteem, and having a positive support system.

Nineteen high school students volunteered as role models for the fifth graders. "A lot of people say, 'All high school kids use drugs,'" Kantos told the culmination audience. "All high school kids don't use drugs."

High school role models were Laurie Barten, Jen Bruntlett, Ryan Flanders, Travis Flanders, Becca Gardner, Joy Hemmesch, Jen Hess, Scott Ingalsbe, Maria Janotta, Eric Korman, Ginni Lahr, Clayton Lang, Sara Lieser, Jason Leyendecker, Andy Jones, Amy Mueller, Erin O'Fallon, Jonnie Schefers, and Ryan Whitcomb.

Lynx player: Maylana Martin
The guest speaker at the ceremony was Maylana Martin, a 6'2" forward for the Minnesota Lynx, a women's professional team in the WNBA.

Martin starred as a collegiate basketball player at UCLA, finishing second on the all-time Bruin scoring list, and was a first-round draft choice (tenth overall) in the 2000 draft.

Martin grew up in a small town near Los Angeles and told a story from her youth. She had a friend in her middle school days who was a year older. He was an outstanding basketball player, dunking by eighth grade and getting recruiting letters to colleges.

But by the time Martin reached high school, he was smoking marijuana, and he dropped out of school and eventually was arrested.

He still gets recruiting letters in jail, she said. "He hasn't really done anything with his life," Martin explained.

"From the moment I saw him," she added, "I knew I didn't want to make the same decision he did."

Martin said basketball and sports were her outlet and helped her refuse to use drugs. "It's good to learn good decision-making skills now," she told Paynes-ville's fifth graders, "because the decisions you're going to make are going to get more difficult."
---